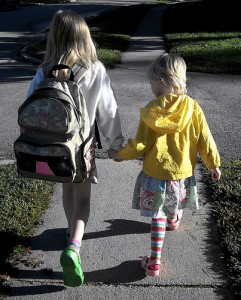 Our oldest daughter, now 7, asked me a question recently that set me back on my heels. "What's special about me?"  It took me by surprise because she has always been a confident, outgoing kid.  The thing about this simple question that made me pause was that she wasn't fishing for a compliment, she really meant it.  She was having a momentary crisis of self-confidence and she was looking to me for help.  When she asked it,  I heard s a little voice in my head say, "Be careful dad, don't screw this one up.  Moments like this is where strippers come from."
When it comes to raising my daughters, I feel a lot like the classic Chris Rock bit where he talks about his one job as a father being to keep his daughter off the dance pole.  As funny as that bit is, there is a lot of truth there.  As dads, we have a huge impact on the way our daughters feel about themselves, and men.  Like Chris Rock says, "They don't grade fathers, but if your daughter's a stripper, you [screwed] up."
So when my daughter asked me to tell her what made her special, I knew not to take it lightly.  It's not like it was hard to think of an answer.  I'm her dad, and coming up with things that make my daughter special was like trying to find something to watch on TV on a Sunday afternoon.  Sort of a no brainer.  Since then, I have been thinking a lot about my little girl's self-esteem.
I guess she's just at that age when the self-esteem starts to drop off, on the way to adolescence when I'm sure it will hit it's all time low.   Good times.  So I'm no psychologist, but here are my tips for boosting your daughter's self-esteem.  You don't have to pay any attention, but if your daughter starts wearing clear heels and changes her name to her birth stone, don't come crying to me.
So here are 5 things I am doing to help build up my daughter's self esteem:
Give her your undivided attention
When you talk to your kids, put down the iPhone or Blackberry, and look 'em in the eye.  I'm as guilty of this one as anyone, but multitasking can send the wrong message.  When your kid asks you a question let them know they are important by stopping, looking them in they eye, and talking to them.  Sure it's not realistic to do this every time, but more often than not, give them the respect you expect back.  You know how you feel when she won't look up from the TV to answer you? It's like that for her too.

Give her compliments
A few time a day, be sure to compliment her on something.  Now don't be the dad that goes around praising every little thing she does.  Nobody likes that guy.  But a little deserved praise goes a long way.   Try not to make everything about how she looks either.  Sure you want to tell her she looks pretty, but you also have to let her know she's smart, and nice, and funny.  We all know girls who grew up only hearing how pretty they were.  We don't want want our daughters to be those girls.
Watch what you say about yourself
This one goes for the moms and dads.  If your daughter hears you saying how fat you think you are, or how dumb, it's going to effect her internal dialog as well.  Our kids model our behavior especially at a young age, so show her a confident parent.  Keep your hangups about yourself to yourself.
Encourage her
We all want to protect our kids from disappointment, but sometimes we can go overboard.  I think it's better to fail than not to try, and I let my daughter's know that.  When they do fail, and they will, you need to bring out your best glass half-full stuff.  So don't say that she probably won't make the team to try to soften the blow if she doesn't.  Encourage her to push herself and let her know that she will fail sometimes, but the only way to find out what you're good at is to try lots of things.
Be the model you want her to see
Be careful about the signals you send to your daughter about women, because she's going to notice what you say and think.  Let her know you respect women because they are smart or talented.  Make sure she hears you talking about her mom and other women in a respectful way.  The way your daughter hears you talk about women will impact how she will let others talk to her.
So there are 5 things I'm doing to try to help boost my daughter's self-esteem.  I'm no Dr. Phil, but I'm going to do everything I can to raise a confident, strong daughter.  She's lucky to have such a good role model in her mom, but I'm going to try to do my part as well.  What do you think?  Let me know or add your tips in the comments.
Ian is the father of two young daughters  (7, and 2).  He has a podcast about starting a business while raising young children at Startup Daddy.
Photo By Pink Sherbet Photography