When I was a kid my parents made me ride the bus to school. I hated it. Seriously. In fact, I rode the bus to school until I was able to get my driver's license and drive to school. What is really telling is that I drove mom's station wagon. Yeah, I was willing to take the stings and arrows from my friends for the station wagon as long as I didn't have to ride that bus. But looking back now, I thank God they made me do it.
You know what happens on school buses because you probably rode the bus, right? In some ways I think that every school bus is a microcosm of "The Lord of the Flies", where only the strong survive. But I have come to believe that we must make our children live in that world if we hope to raise strong, self-sustaining, contributing members of society. Let me explain…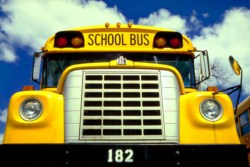 School buses, as least where I live, are mostly empty nowadays. Why? Just check out the 'car-rider' line at your local school and you'll see why. Kids today are hand-delivered to school. I am sure each family has their own reasons why the kids are driven to school, but I would guess that the majority of the reasons revolve around the kids not wanting to get up early enough to make it to the bus and their desire not to ride the bus, or parents not wanting to make junior stand in the cold and rain. Believe me, I feel your pain kids, I do. But I am worried what we are doing to them.
The first event that caused me to really ponder this whole thing was last December when the NFL moved the Eagles/Vikings game from Sunday to Tuesday because of a snow storm. Ed Rendell, Governor of Pennsylvania at the time, sounded off, "We've become a nation of wusses. The Chinese are kicking our butt in everything. If this was in China do you think the Chinese would have called off the game?" Then in January I read this article at Psychologytoday.com called "A Nation of Wimps", by Hara Estroff Marano. You need to read that article, like now. Go ahead… go. Then come back here and continue reading.
This is already getting long, so let me sum up the high points for you.  As a nation we are encasing our children in bubble wrap (my analogy) so we can shield them from every little bump, every harsh word, and every little problem that could possibly worry their little heads.  I quote from the article: "Messing up, however, even in the playground, is wildly out of style. Although error and experimentation are the true mothers of success, parents are taking pains to remove failure from the equation."
I believe we are setting our kids up for failure because we don't want them exposed to the harsh realities of life.  The article calls technology, specifically cellphones, "the eternal umbilicus".  Boy, does that hit the nail on the head or what?  If kids never experience failure… never get disappointed… never face adversity… have us on direct speed-dial every minute.. what will happen when life hits them when they leave us?  Exactly.  They're in big trouble.
The best quote I can share with you from that article is this: "Studies of children and adults around the world demonstrate that social engagement actually improves intellectual skills."  So you wanna make your kids smarter and able to deal with the harshness of life? Make them ride the bus.  What better social engagement could they possibly get?