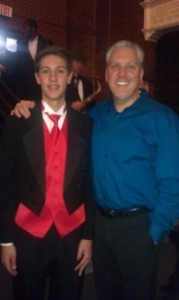 My 15 year old son is only 1 inch away from being as tall as me. It's a strange feeling for me to see him looking straight into my eyes. His feet are as big as mine. His hands are as big as mine. And the little boy has grown into a young man.
For many years I maintained a family website where I posted pictures of my kids from birth till now so my family could see pictures from the important events in our lives. But if your family is like mine, then you know what happened when Facebook came along. Facebook became where I posted all the pictures of my kids, and looking at the picture galleries now allows me to see the progression of my kids growing up. It's quite amazing to me because you don't see the progression of your kids growing up every day. But when I look back and see what my kids looked like last year, and 3 years ago, and 5 years ago… it's amazing.
I posted a picture on Facebook of me and my 15 year old son the other day and I got an interesting comment from an old friend of mine. She said "Wow, that gives me a flashback to 25 years ago…he is you made over!"
I paused for a minute because it didn't make sense to me. So I dug out a picture of me when I was 15 and to my surprise, there was my son. As lanky as I was, with a mop of wavy hair and long arms. I never saw it till now.
He looks like me.
Then I started thinking about what I was going through back when I was 15. I thought about what I was thinking, feeling, and doing. I don't remember everything obviously. Alot of time has passed, and a whole bunch of water has gone under that bridge. But I do remember some. And it caused me to think anew about my hopes and dreams for my kids.
I remember so much of the angst of being young. The feelings of inadequacy. The fears of not being accepted by my peers, my parents, and especially girls. My struggles to be good at things, and failing at some things I tried. I don't envy my son, because being young is hard. Not hard in the way that being an adult with adult-sized responsibilities is hard, but it's still hard. And he has to deal with so much more than I ever did at that age. No, I don't envy him.
With that one comment from my friend, my perspective changed. For some reason, even though he was growing as tall as me, in my mind I still saw my son as that little boy who liked to play with legos and ride his bike. I almost missed it, because my son has slowly been turning into a man right in front of me.
And so now we begin a new chapter in life, me and him. Because I have bigger things to worry about now. I have so much more that I need to tell him, and show him, and teach him. And we have much more that we need to talk about. He does look like me, and I have a feeling that he also thinks and feels alot of the same things that I did. Lucky for him, I've already made a bunch of mistakes that he won't have to. And lucky for me, because I have a hunch that he'll be teaching me a thing or two as well.