My friends Gene and Nellie Coppola are experiencing the worst nightmare imaginable: Their 24-year-old son is missing.
May 2, 2011 Update: They are offering a $3,000 reward for details of Nick's current location.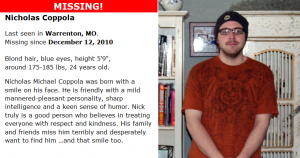 They've smartly built a site for and about him at http://HelpFindNick.com. Please visit it and, if you are at all able, consider a donation. They've hired a private investigator to help find Nick.
On HelpFindNick, his mother shares the details about his disappearance and local papers (also picked up by the Huffington Post) have covered his story. Still, no Nick, and he is off his medication which makes him, I fear, a threat to himself.
Please post, tweet, or otherwise spread the word about this article to your network? If you have the means, please consider a donation to Help Find Nick. And now, go upstairs, and give your children an extra kiss in gratitude for their safety.
:: Joe Hage ::