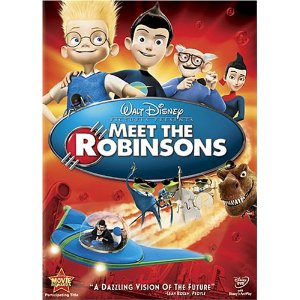 My 8 year-old has been after me to watch Meet The Robinsons for the longest time so I finally made time to watch it with my kids and I sure am happy I did. I absolutely loved the movie. Now, I have to admit that I'm a sucker for most of the animated films these days because quite frankly they are so well-written and well-made. Not only is the animation incredible, but they all seem to tell a good story and there always seems to be something touching in them too. For example, starting way back with the Lion King (when the dad dies) all the way to last year's Toy Story 3 (when Andy goes off the college made millions of parents cry like babies). So I'm pretty much prepared for this winning formula by now. Still, Meet The Robinsons got to me in a big way with its beautiful finale sequences. Totally unexpected and well done.
One of the things I liked best about this story was the fact that it addresses a subject matter that isn't really tackled much, adoption. I believe Tarzan does a good job with the subject matter but I can't think of too many others that do. Despicable Me also does a sweet job with adoption. In any event, Meet The Robinsons does the best job I've seen. I don't want to give away anything more so I can't go into details here. Please watch it with your family. Even if we think we have the weirdest family around, at the end of the day, it's still your family.
Here's the ending to Meet the Robinsons with the beautiful song "Little Wonders" by Rob Thomas. I can't believe how much I was moved by this song and the ending. It all just tied together so wonderfully. Even the quote they used at the very end by Walt Disney to "Keep Moving Forward".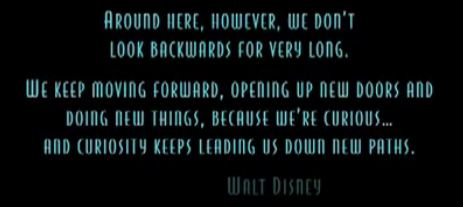 Here's the whole song and music video for Little Wonders

Little Wonders lyrics
Songwriters: Thomas, Rob;

Let it go, let it roll right off your shoulder
Don't you know the hardest part is over?
Let it in, let your clarity define you
In the end we will only just remember how it feels
Our lives are made in these small hours
These little wonders, these twists and turns of fate
Time falls away but these small hours
These small hours still remain
Let it slide, let your troubles fall behind you
Let it shine until you feel it all around you
And I don?t mind if it's me you need to turn to
We'll get by, it's the heart that really matters in the end
Our lives are made in these small hours
These little wonders, these twists and turns of fate
Time falls away but these small hours
These small hours still remain
All of my regret will wash away somehow
But I cannot forget the way I feel right now
In these small hours
These little wonders, these twists and turns of fate
Yeah, these twists and turns of fate!
Time falls away, yeah but these small hours
And these small hours still remain, yeah
Ooh they still remain
These little wonders, oh these twists and turns of fate
Time falls away but these small hours
These little wonders still remain