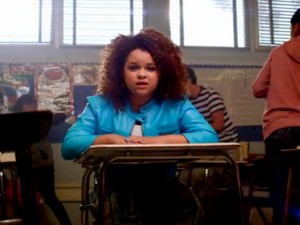 We've covered bullying many times here because it's such an important issue. It's incredible that bullying is still such a widespread problem in this day and age of instant communication. As a matter of fact, social media has actually increased the amount of bullying by giving the malicious bullies more tools to spew their venom against their innocent victims. We as parents, teachers and any other adult need to do everything we can to help protect children of all ages who find themselves under attack, not just physically which is easy to see but more importantly mentally and emotionally. Far too many sweet angels have their spirits broken and rather die than continue to live the painful existence they endure. We must help and become part of the answer or continue to do nothing and thus become accomplices to the problem.
I love this song by Rachel Crow called "MEAN GIRLS" which addresses the pain of dealing with bullies. I love her attitude in the song when she says "I'm a just comb you outta my curls". It's such a well-down music video too with scenes from school and sweet girls being harassed by the popular mean girls. This has gone on forever but it can change as more and more of us do something about it. We cannot turn a blind eye to this anymore. This includes all teachers and anyone working in the school system, even if the kids aren't in your class…it doesn't matter, your mission should be to protect all children. Fellow students should also do something about it. If they are afraid of retaliation then they can report bullying anonymously. By remaining silent you are all condoning and helping this behavior. We have to help each other.
Note: I think one of the reasons this song hit home even more than usual is because my sweet six year-old daughter's name is Rachel.
Do you ever go to lunch with no one by your side
Cause the moment you arrive they leave the table
Calling me everything but my name
Need I remind you again just call me Rachel
How would you feel if you running home crying
Lock yourself in your room, don't want anyone to see ya
While everyone's having fun outside, and you're telling yourself
I won't let it get to me no more
I don't wanna feel this way
I can't believe I let it go so far
No no, it's not okay
What do you know about me?
Do you wanna know what I think?
Mean girls, mean girls
I'm a just comb you outta my curls
Mean girls, mean girls
You no longer run my world
Mean girls, mean girls
I'm a just comb you outta my curls
How would you feel every time you go to school
Someone's looking at you weird calling you a loser
All these girls wearing bubble-gum pink
Guess I didn't get the memo
Cause they're laughing at my blue shirt
Well I hope you feeling good about you treating someone you know like a perfect stranger
Cause it's easier than standing by my side
I won't let it get to me no more
I don't wanna feel this way
I can't believe I let it go so far
No no, it's not okay
What do you know about me?
Do you wanna know what I think?
Mean girls, mean girls
I'm a just comb you outta my curls
Mean girls, mean girls
You no longer run my world
Who do you think you are
Loud mouth, cafeteria star
Maybe somebody was cruel to you
So you think that's what you're supposed to do
One day, it might be you
When you need a friend, but you no longer cool
When everyone leaves when you walk in the room
I just hope they forgive you
I won't let it get to me no more
I don't wanna feel this way
I can't believe I let it go so far
No no, it's not okay
What do you know about me?
Do you wanna know what I think?
Mean girls, mean girls
I'm a just comb you outta my curls
Mean girls, mean girls
You no longer run my world
Mean girls, mean girls
I'm a just comb you outta my curls
Mean girls, mean girls
You no longer run my world