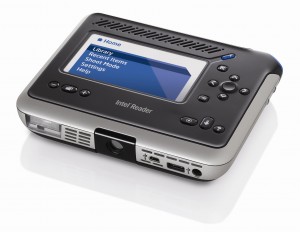 Last month I wrote about a very different type of Digital Reader from Intel. Â The Intel Reader is designed to help people with dyslexia and other visual impairments by easily scanning and then "reading" (via text-to-speech technology) virtually any written words that can be photographed by the portable device. Â I had the chance to play with the Intel Reader and it really is phenomenal technology.
Checking It Out
As I mentioned in last month's post, Intel has made an Intel Reader available for someone in the Dad-O-Matic community to try out for one month and see firsthand how this type of technology can potentially improve their lifestyle. Â You responded with some great and inspiring comments indicating your interest in using an Intel Reader. Â I am pleased to say that Kevin Metzger and his daughter Haley have been sent the sample unit to try out. Â Kevin is a devoted dad who has contributed to Dad-O-Matic, but he also has some compelling reasons why he has a personal interest in the enabling technology the Intel Reader represents. Â As Kevin said in his comment:
"As you may know my first blog is MySpellingSucks.com an unedited discussion about my ADD and Dyslexia and my Daughters CP. I've largely learned to compensate for my dyslexia although I am a very slow reader because of it. The bigger reason I'd like to try the reader is to see how it could help my daughter.

For some reason when Haley tries to read from a page in a book she can not track the words or find her spot on a page. When the words are presented individually she seems to do well. It seems like this tool could help us train her to read larger sections of text slowly by presenting progressions of smaller font as she reads.

From my perspective I'd like to see if I could learn to read faster with its use."
I look forward to learning more about Kevin and Haley's experience with the Intel Reader and getting the perspective of someone who has had to live with visual challenges and really can judge the impact of this technology. Â I will share Kevin and Haley's thoughts about the Intel Reader with you here in a few weeks.
To be continued…
(Disclosure: I am part of the "Intel Insider" program and am compensated and/or receive other value from Intel to attend events on their behalf. I was not asked to write this post, but I came up with the idea of doing so because I thought it would be of interest and value to the Dad-O-Matic community. I hope you agree.)
Jeff Sass is the proud dad of ZEO (Zach, 22, Ethan, 20 and Olivia, 19).  He is also a seasoned entertainment and technology exec and active social media enthusiast.  You can see more of Jeff's writing at Sassholes! and Social Networking Rehab and you can listen to Jeff on the Cast of Dads podcast.?