Friday, August 31, 2012 is the final dinner at Charlie Trotters. Â I've been following the countdown all week…the Web site has a convenient countdown clock and the Chicago Tribune has been running a long series by Mark Caro leading up to tonight's final dinner, $250 per person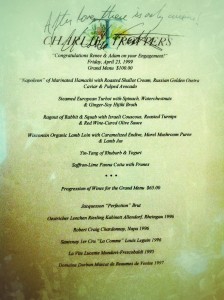 I remember the first time I walked into this culinary pantheon.  It was April 23, 1999.  My then fiancé, now wife Renee and I had gotten engaged only hours earlier, at a nearby neighborhood craft boutique.  She thought we were going to the movies but instead, she had to race home to change clothes and prepare for what be one of the most memorable meals of our lives.  We walked out happy and a signed menu reminding us that, "After love, there is only cuisine."
The second time I walked in almost four years later, it was a totally different experience. Â My then wife was pregnant with our daughter. Â I'd been fortunate enough to "win" the opportunity to spend a week (a whole week!) trading my day job in front of a computer for chef whites in one of the most acclaimed restaurants in the world. Â When I arrived, I was instructed to come in the back door, off the alley, not the front door of the restaurant. Â That's where the staff entered. Â Truly, it felt as if I was going backstage for a theatrical production. Â No spotlights. Â No programs. Â Right into the kitchen where all the action was.
I fondly recall so many experiences from that week, but also remember it being the hardest five consecutive days of work of my life. Â It's grueling to stand on your feet from 10 a.m. until 2 a.m. almost non-stop. Â I don't think I saw or talked to my wife the entire week as our ships passed in the night (I'd get home in the middle of the night and she'd leave for work a few hours later while I was still sleeping).
In that week (according to the notebook I kept), I watched a lot and did more hands-on than I ever thought I would. Â I:
cleaned manilla and littleneck clams
made sous vide vegetables
peeled carrots
quartered baby artichokes
cleaned fiddlehead ferns
cooked razor clams
made squid ink pasta (under the watchful eye of Giuseppe Tentori, now of GT Fish & Oyster and Boka, who I'm lucky to still know well today) using 46 egg yolks
boned quail and pheasant
tasted my first sea urchin
washed fresh water chestnuts
peeled and blanched grapefruit peels (12 times)
butchered ducks and rendered the fat with Matthias Merges, now of Yusho
plated seafood salads
turned meat on the grill
shucked oysters
made persimmon bread pudding
seeded passion fruits
buttered ring molds
mixed the batter for coconut macaroons
made chocolate-coconut ice cream (1/2 milk, 1/2 coconut milk)
separated 120 eggs
plated crème caramels
sauced plates
cut quinces
learned to add citrus rinds when steaming seafood
tasted bison
was asked to remove my apron at 8:30 one night and then seated in the restaurant at a table for one, where I tasted 14 courses…literally everything on the potential menu for anyone that night, including four desserts and wine with each course…and then staggered home
It was…an amazing week. Â An experience I will always remember. Â And one that I'm sorry my 9-year-old daughter, a lover of fancy food, won't have the chance to experience.