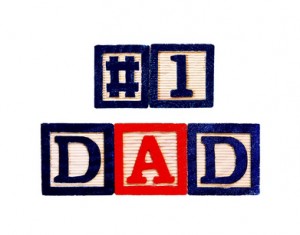 Influence is a decided buzz word, as is "influencers." Â Many of us get caught up with the number of followers and on-line friends we have… we judge our online worth by our Klout scores, and re-tweets and blog comments. Â But today is the day to honor someone who is a true influencer… someone who, as far as you are concerned, may deserve a Klout score of 99, whether he is online or not. Â Today is the day to honor our fathers, the ultimate influencer. Â Of course, if you are a dad, as I am, it is a great day to appreciate and enjoy the love of your children and recognize your extremely high Klout score with them.
Passing The Baton
Fatherhood is a wonderful thing, at both ends of the spectrum – being a son and being a dad. Â If you are lucky enough to be both, then today is without question the most special day of the year. Â Think about your dad and how much of an influence he has been on your life and who you are. Think about your own kids and the influence you have and the life shaping example you are to them. Â Look in the mirror, smile, and pat yourself heartily on the back. You deserve it. Â Being a dad is special, and so are you. Â Just ask your kids!
HAPPY FATHER'S DAY!
Jeff Sass is the proud dad of ZEO (Zach, 22, Ethan, 21 and Olivia, 19).  He is also a seasoned entertainment and technology exec and active social media enthusiast.  You can see more of Jeff's writing at Sassholes! and Social Networking Rehab and you can listen to Jeff on the Cast of Dads podcast.
Photo Credit: Margaret M Stewart – Fotolia.com