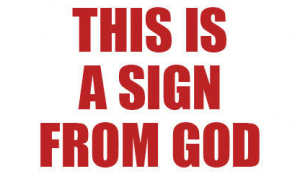 While I try to work through what this blog will be for me, and how to put all the disparate pieces together, I posted a self-reflective blog over at Dad The Single Guy that has spurred a pretty good discussion on the blog and on my Facebook, so I figured I would see what I could drum up here.
Without just re-posting-the upshot of the posting on DTSG is how in a random encounter last night I was confronted with my opinion on religion and spirituality–and basically I am not a religious person, and I look inward for spiritual guidance.
That said, there the question of is there design? Â Is there a grand plan?
To me, life is somewhere between a series of coincidences and random acts-and we come together based on things we affect. Â The person I was talking with last night put all of those actions and reactions in the hands of God.
I certainly encourage everyone to have their beliefs and love to debate people on things (sometimes I will do it just to be contrary). Â But that said its tough to see where the signs of a God start and end, which makes it tough for me to believe-kind of a left brain/right brain conundrum.
I send my kids twice a week to religious class, and they will get their Bat Mitzvah at 13-but that's in part to fulfill a promise I made to my wife before we had kids (knowing she would probably not live to see that moment) and because I believe its the right thing to do for my parents and the people I care about-but its not a God driven desire of mine.
My problem though is my kids have picked up on this-and I am worried that my jaded view on religion is now being shared by my kids-and they have not had the chance to understand, embrace or decide upon religion.
Navigating this will be tricky. Â 10.5 is getting to the point where she will start looking for a date for her Bat Mitzvah, and 8.0 will become enmeshed in the hoopla and planning-but will the faithful part of the event translate? Â And how can I try to embrace it, while being honest about my own feelings toward it?
And there in lies the conundrum for this audience–navigating the single dad waters of being honest with my kids, honest with myself, loyal to my wife's memory and making sure the girls have the chance to experience their heritage so they can make a decision on it.