For many years I have done my dad-ly duties by documenting the various family events such as birthdays, vacations, and sports games. Â I have more digital pictures than I care to count, and I will admit that I am quite fond of making music videos of the family events and posting them on Youtube (www.youtube.com/user/stevengholt).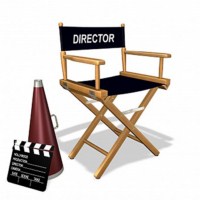 I have even helped my kids a few times with their school video projects, and if you are a parent then you know what that means… you end up doing more of the project than your kid. Â It shouldn't be that way, of course, but we want our kids to make a good grade, right? Â And if we are honest about it, all the other parents in town are doing their kids' projects, so it really is a competition between parents and I am certainly not going to let another dad show me up. Doing video can be difficult for many people, so those video projects in the past almost required that I do most of the work anyway. But that changed recently, and I must admit, I am quite the proud papa.
Things started to change when my son, Harrison, got his iPod Touch with a camera. Â He started making goofy videos at home and uploading them to Facebook. Â They started out pretty silly, with my kids just goofing around. Â But then they started to have a point. Â They started scripting them, and they weren't so goofy. Â Well, they were still goofy, but it was organized goof which is entirely different.
So when Harrison told me last week that he needed to make another video project for school, I was pretty pumped.  I was excited to see just how much he would get into this.  So when we sat down to talk about it, I told him that all great directors, like Steven Spielberg, did certain things when planning their films.  He wanted to know what.  So I told him that you have to have a screenplay to start with.  You need to have good actors.  And you definitely have to have a shot list.  Spielberg always has a shot list.
So we sat at the kitchen table and wrote up our screenplay (Ha), which no doubt Spielberg would never approve of, and wrote down our shot list. Â We enlisted one of his brothers to join the production and bribed one of the dogs with treats to be the star of the show. Â We planned out our jokes, the punch lines, the scene locations around the house, the props we would need, and we got busy.
My son was a real pro. Â He came up with the best punch lines, he evaluated the best lighting locations, and he gave me some great bloopers to work with. Â He transformed into Spielberg right before my very eyes. Â Well… sortof. Â He did great, and we made some great memories in the process.
To see our final result, "How To Wash A Dog", go here. Â And post a comment if you like it!