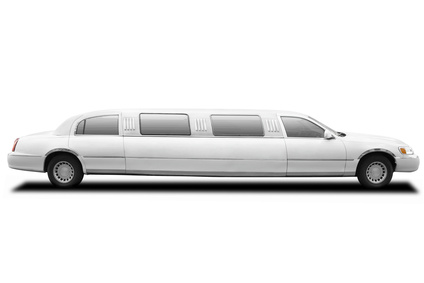 It was the limo that put the word "stretch" in Stretch Limo.  It was a long, luxurious, glistening and gaudy white limousine worthy of any superstar celebrity in need of a ride.  It was a head-turner, and it had just turned and pulled up in my driveway.  The driver sheepishly knocked on my door.  I looked at my watch.  It was about the time I needed to head to the airport for yet another business trip.  By this time, my kids had looked out the window and noticed the wheeled wonder blocking the family minivan.  Amidst screams of "who's limo is that???" I answered the door.
"Mr. Sass? Â I'm here to take you to the airport…"
I gazed beyond the driver to the beautiful behemoth in the driveway, and then, with puzzlement, at the man in my doorway.
"Oh, that?" he explained. Â "All the town cars were out this morning, so I had to take the stretch. Â Don't worry. I'm only gonna charge you the Town Car rate."
"Cool…" was about all I could say. Â Then, as the driver grabbed my bags, I looked at my watch again. Â It was tight, but there should be just enough time. Â I asked the driver, "Do you mind if we make one quick stop along the way?"
* Â * Â *
Except for a little anxiety about making my flight, it was the one and only time I welcomed the long line of cars slowly creeping forward toward the student drop off zone.  Hawkes Bluff Elementary School was walking distance from our house so we only drove the kids to school if it was raining or if they were running late.  This morning was an exception. I welcomed the slow arrival, as did my kids, who waited until just enough of their fellow students were staring at the long limo before they rolled down the smoked glass to reveal who was inside.
By the time we rolled up to the drop off zone, two of my three kids were standing on the seat, heads poked out through the sunroof so they could wave and taunt their jealous classmates as we came to a stop in front of the sign waving school aide.  The smiling driver, donning a classic "chauffeur" cap and happily playing along, ceremoniously opened the limo door, and out popped the Sass kids to the imaginary popping of paparazzi and a red carpet only they could see.
Best school entrance evah! Â (and one my kids, now in their 20's, still talk about).
Have you ever had the chance to treat your kids like rock stars?
Jeff Sass is the proud dad of ZEO (Zach, 23, Ethan, 21 and Olivia, 20).  He is also a seasoned entertainment and technology exec and active social media enthusiast.  You can see more of Jeff's writing at Sassholes! and Social Networking Rehab and you can listen to Jeff on the Cast of Dads and Wunderkind! podcasts.
Photo Credit: © andersphoto – Fotolia.com