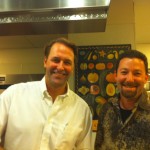 I've long admired Michael Ruhlman's writing. From his first-hand experience learning what it takes to become a CIA trained chef in The Soul of a Chef (my favorite) to his work with Thomas Keller on The French Laundry cookbook, he puts you in the kitchen and lets you live the experience as he has.
So it was quite thrilling to hear he was part of the lineup at BlogHer Food '10 in San Francisco last weekend, a gathering of more than 300 food bloggers covering everything from delicious dessert reviews to a mom who cooks gluten free and everything in between.
Ruhlman had two opportunities where I think he dramatically inspired his audience.  He started by wrapping up the conference Saturday evening with an anecdote from Catching Fire: How Cooking Made Us Human by Harvard University Anthropologist Richard Wrangham.  In the book, Ruhlman said,  Wrangham poses the argument that we didn't become human because we "tamed fire" or because of "some genetic accident."
No. Â Ruhlman (via Wrangham) says we became human because we started to cook. Before we started to cook, apes would have to spend 6-8 hours per day chewing up enough food to get enough nourishment to sustain themselves. Â "Once we started cooking, we could consume enormous amounts of calories very quickly, leaving us all kinds of time to do other things," Ruhlman said. Â We could divide and conquer tasks. Some people could hunt while others cooked.
And because of that, who we were changed as quickly as our genetics changed (larger brains fed by increased calories, less hair as we travelled longer distances more quickly to find food). Â "[Cooking] made us social," Ruhlman said. Â We had to cooperate with one another. Â We had to change our temperament. Â "You couldn't be an asshole if you wanted to eat," Ruhlman said.
Cooking food is what has made us human and over the past 50 years, he suggested, as Americans, we've started taking more shortcuts and stopped cooking as often.  Despite a dedicated TV network that's seen in nearly 100 million American homes according to the New York Times in 2009, we spend less time in the kitchen than ever before.  Take a chicken recipe in a cooking magazine today and see how the same recipe was prepared 10 years ago and you'll see the time's been cut in half (thanks to boneless, skinless chicken breasts that require little, cleaning or preparation).  Obesity is at epidemic levels. The environment and the oceans are in trouble. Cooking "is really, really important," he said.  "Cooking is fundamental to our humanity."  And we should do it more often, write about it more often, no matter whether you're blogging about cupcakes or more serious issues.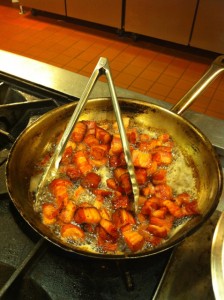 And with that, he drew a standing ovation from the crowd, which shortly thereafter retreated to the closing night event, where Ruhlman held a demonstration on how to properly cure and cook bacon.
A quick bit of transparency and disclosure before you read any further: my company works for the National Pork Board who was a sponsor of the closing event and obviously benefits from any pork (bacon or otherwise) that you decide to buy and eat as a result of this post. They have not asked me to write this post, the have they not influenced any of the content and they did not pay Michael Ruhlman to talk about bacon. Â That, he was able to easily do on his own.
Bacon, he said, is a maligned meat. Â It has a bad rap for a number of reasons, not the least of which is our perception as Americans about the role of fat in our diet.
Here's what he had to say:Â Michael Ruhlman on Bacon and Fat
But more importantly than what he had to say about why it's ok to eat bacon was what he had to say about how you can make your own bacon at home. Â It's not nearly as hard as I certainly thought…so check out his recipe about it here. Â All you need is a piece of pork belly (any good butcher can get that for you he said) and some simple spices. Â And time. Â And a bit of water (yes, he put the cold bacon in a pan with tap water and brought it all to a boil before allowing all the water to evaporate and the bacon to cook).
Good luck dads … go make some bacon now! Â And then you too can look this happy: