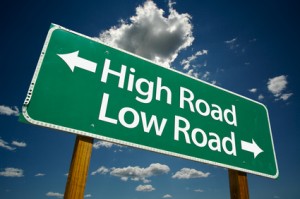 As parents our world changes the moment our kids begin to speak.  As those words begin to spout forth not so trippingly from the spittle laden tongues of our young ones we can sense the beginning of the end… the end of quiet, that is… and the beginning of a new level of communication between parent and child.  It is actually a wonderful time, and truly a time of wonder as we watch baby babble become toddler talk, and, faster than you ever imagined, one day you find yourself having a real conversation with your kid!
A Conversation That Never Ends
Once you start talking with your kids it truly is a conversation that never ends. Â It starts with the infamous, "Why?" Somehow, as soon as they learn to talk, children innately understand that they can respond "Why?" to virtually anything an adult says to them and get quite satisfying results.
KID: Why?
DAD: Because…
KID: Because why?….
DAD: Because I said so…
KID: Â But, why???…
DAD: Because…
And on and on and on…
The Great Debate
As your kids get older, they grow beyond the art of simple conversation and inane questioning to become masters of the disagreement. The simplicity of "why" turns into the far more aggravating dispute as the once tentative young talker gains the confidence to challenge the gospel according to dad… Â Then disagreement begets arguments and "fights" and by the time your kids become young adults you find yourself occasionally getting into the same level of verbal fisticuffs with them as you might more typically engage in with a friend, lover, spouse or business associate. Â In the midst of this very adult like (bad) behavior, it is easy to forget that the person pushing your buttons and raising your ire is not a friend, lover, spouse or co-worker. Â It is your kid, and "in a fight" or not, you are still the parent.
Take The High Road
Recently, I forgot this. Caught up in an argument with one of my twenty-something sons, I proceeded to behave badly, and avoid their calls because I was "mad at them." Â If he did manage to catch me, I was curt, and disengaged. Â In summary, I was an ass, forgetting what it meant to be a Sass. Forgetting what it meant to be a dad. Â Forgetting that kids may grow up into adults, but they will ALWAYS be our kids, and we will, and must, ALWAYS be their parent. Â Petty behavior is not seen as petty to them. Â The actions of a parent carry much more weight in the eyes of a child than the same behavior by anyone else in their world. Â My son made me realize this, and helped me realize how foolish I had been to allow myself to get caught up in the madness of being mad. Â I am the parent. No matter what my adult emotions may tell me, it is my job and responsibility to not fall prey. Â It is my job as a parent to take the high road and be the dad, not the angry friend.
And so I did… And hopefully, next time, so I will…
What do you think?  Have you been in a situation with your kids where you set aside your feelings and took the high road, or like me, have you ever caught yourself taking the low road with your kids. Please share your thoughts in the comments and let me know. If you took the high road and I took the low road, we'll see if I'll be in Scotland afore ye!
Jeff Sass is the proud dad of ZEO (Zach, 22, Ethan, 20 and Olivia, 19).  He is also a seasoned entertainment and technology exec and active social media enthusiast.  You can see more of Jeff's writing at Sassholes! and Social Networking Rehab and you can listen to Jeff on the Cast of Dads podcast.
Photo Credit: © Andy Dean – Fotolia.com