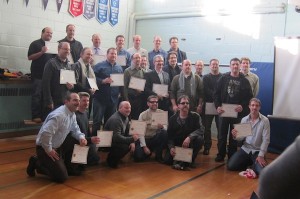 Last year, a bunch of the teachers at my daughter's school formed a team and participated in Movember. For those of you not familiar, during Movember men around the world grow mustaches in the month of November, to raise money and awareness to fight prostate cancer and other men's health issues. Â All the kids rallied around the teachers and got involved. You could tell the kids were proud of those teachers and they should have been.
So this year, my friend Alan had an idea. He thought it would be fun if a bunch of dads from the school formed a Movember Team. He sent out an email to the school dads he knew, and asked everyone to pass it on to anyone else they knew in the neighborhood.
I thought it was a great idea and a bunch of the other dads did too. I figured it was a great opportunity to teach my daughters about charity, and let's face it, when you get a chance to do something your kids can be proud of  you have to take it. The fact that we would have to get together as a group, and that there may be beer present at such a gathering didn't hurt either.
When November started, about 15 dads were on the Dads of Summit Heights PS Movember Team. That number quickly grew to 27. What none of us expected, is what we would accomplish.
The Principal, Thelma Sambrook, and the staff and children at Summit Heights have been very supportive.  Word spread through the neighborhood and school district, and people started donating not just to us individually, but to the team. With a few days left in November, our small group of dads has raised more money than all but 35 teams in all of Canada.
Think about that. Movember is pretty big up here in Canada. I know everywhere you look here in Toronto, there is a guy growing a mustache. All of the big and high profile companies get teams together. Local newscasters, large corporations, banks, all take part. And our group of dads has raised more money than all but 35 teams. We've raised over $22,000.
One of the dads has done some calculations and he's figured that our average contribution per teammate is well above that of the top 3 fundraising teams. It's also been pointed out that we have raised more money than the Parliament of Canada. Just 27 dads.
The school had an assembly and invited us. The Principal talked about Movember and called us up in front of the kids. It was that chance to make our kids proud. The kids were out there in the audience, all of them with mustaches painted on. When I spotted my daughters and made eye contact, the look on their faces- it was pretty awesome.  The whole thing was pretty special. All because a dad had an idea and acted on it.
To support the Dads of Summit Heights PS Movember effort, you can donate to me or the team here.
The reason I wanted to tell this story though, is that it's pretty amazing what this small group of dads has done. I'm proud to be a small part of it. Sometimes it feels like one person can't make a difference. I'm here to tell you they can. One dad had an idea, and 26 others joined him and raised over $22,000 to fight prostate cancer. Imagine what you and 26 of your friends can do. Then do it.
Ian Gordon is the father of two daughters (8 and 3).  He is a digital marketing professional, and host of the Startup Daddy podcast.