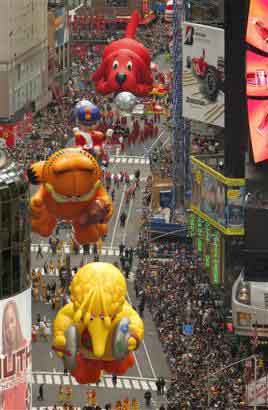 The dads from Dad-o-Matic want to wish everyone and their loved ones a Happy Thanksgiving! With all the tough times going on right now, we should all be extra thankful for all the blessings in our lives. Let's also do what we can to help others this time of year as well as throughout the year.
Here are some of the amazing causes that went on this week or still going on. Thanks to SarahLacy for bringing the last two to our attention.:
TweetsGiving started on twitter and managed to accomplish its impressive goal of raising $10,000 by Thanksgiving which will help build a new classroom in Tanzania! Thus proving the power of a tweet!
CharityWater is an incredible movement that wants to provide clean water to millions of people that don't have what we all take for granted. Here's a short PSA that brings the message extremely close to home!
Note: Their next big event will be their 3rd annual Charity: Ball 2008 on 12/15/08 also known as Jingle Wells.
Another great cause is what Toms Shoes is championing where their goal is to provide 30,000 shoes to needy children in the world that becomes sick and die from being barefoot. For every pair of shoes we buy, they will match with a pair for a child. Truly awesome cause.
So, please do your best to be extra grateful this year and let's do what we can to not only support our own families but anyone else we can too. After all, we're all brothers and sisters in the same family of Man.
Doriano "Paisano" Carta is the proud papa of three children, Nicholas (9), Matthew (5) and Rachel (3). Besides being a contributing Executive Editor for Dad-o-matic, he also writes for other blogs such as Mashable, Pistachio Consulting as well as his own two blog, www.DorianoCarta.com. He has also contributed to other blogs such as SarahLacy and SocialMediaMom. Pai can be found on twitter as Paisano.