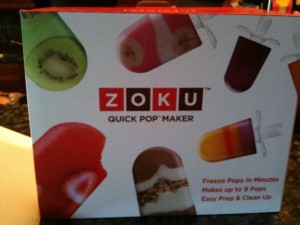 I've long been a fan of homemade ice cream.  Not homemade in the store…homemade in my home.  It's really one of the easiest recipes to make…as long as you keep the ice cream maker in your freezer, you're always ready to go.
But what about something a bit lower in fat?  Say a popsicle?  Every kid loves to make popsicles…but as every kid also knows, it JUST TAKES SOOOO LONG.
Enter the Zoku Quick Pop Maker.
Now I'll admit that in comparison to  the plastic molds available for just a few bucks at any grocery store (and sometimes less than that at any garage sale), at $50, this is a pretty hefty investment, but the thing works like a charm and you cannot put a price on instant gratification for your children.
It has a base that you keep frozen, just like an ice cream maker.  You put the sticks in, pour in your flavor of choice and voila, in 10 minutes, you have 3 popsicles.  Do it again and in a bit longer than 10 minutes, you have 3 more (you can buy more sticks if you need more than six at a time).  For kids, they can sit there and actually watch the popsicles freeze, something you can't of course do the conventional way unless your kids enjoy sitting in a walk-in freezer in a parka.  And as they start to freeze, you can use a straw to suck out the middle (which freezes last) and then fill the center with a different flavor juice (we've found great success with lemonade and limeade).
They're for sale at Williams-Sonoma if you want to keep summer going for a few more months!
Disclosure: I bought this product without incentive using my own dollars, no freebie, no gift.  The review above is my own.