The other day one of my kids ran in the house after school and made a bee-line to his room.  In a matter of minutes the XBox360 was online and he was fragging (ask your kids, they know what it means) his buddies and trash talking (using his wireless voice-over-ip headset) his way through a World War II maze of Nazi zombies.  A few days later my other son who is also a zombie killing XBox360 aficionado did the same thing with his buddies.
That in and of itself isn't that remarkable, I mean, I just described half of American teenage boys, right?  But what was interesting to me was that in both cases my sons had just left the company of their friends.  To be more specific, they were having more fun with their friends not being there than if they were there.  Are you getting this?  They were together with their friends, but then decided that playing games online with said friends was better.  This is so far removed from the vivid memories of my childhood years that it is stark in contrast.  Let me explain…
I was pretty much your average middle-class, subdivision-living, kid back in the 70s and 80s.  The neighborhood kids would all hang out in someone's yard, or tromp through the woods (as much as you could call it woods) in the backyard and our moms would have to holler out the back door when it was time to come home to eat dinner.  And many times we would pretend not to hear mom because of course we had more important things to do like climb trees and generally wreak havoc with the neighborhood girls.  My kids don't have any memories like that.  None.
Now, this is not to say that my childhood was the iconic dream world that every kid should have the privilege of enjoying, or that somehow my kids have been permanently harmed because of this fact.  I remember my first gaming systems (can you say Atari 2600??) and the joy I found in technology that captured my imagination as a kid, and still does today.  I 'get' the whole gaming thing, still enjoy a game or two when I can find the time, and in truth at times am jealous of those gorgeous, immersive gaming experiences that my kids utterly enjoy daily.  And if I could get away with it (and not get grief from my wife), I just might join them in their nazi-fragging bliss.  But now that I have the benefit of endless streams of wisdom because of my vast years of experience as a man and a father, I am a bit concerned.
You see, I am afraid that my kids aren't going to know how to do lots of things. I learned how to manage my time for maximum playtime and enjoyment before mom hollered.  I learned teamwork.  I learned how to make forts out of tree branches and the art of making the perfect mudball. (Skills that obviously serve me well in my career today, right?) I developed a respect for nature and my surroundings.  I learned how to make my own fun even when I didn't have many things to have fun with.  And I learned endless life lessons from the arguing, fighting, reconciling, negotiating, sharing, and secrets that I shared with my buddies.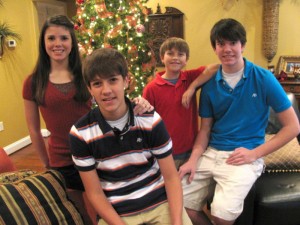 Maybe I am just jaded, or maybe I am slowly turning into a grumpy old man.  But I am fearful that in my quest to give my kids the 'things' that they desire and that all their friends have, that I am doing them harm.  I fear that my kids are going to grow up into adults that don't know how to interact with co-workers, family members, and neighbors.  Kids who won't appreciate nature and the sheer joy that comes from climbing a tree and getting sap all over your hands.  But I think I figured it out.
Tomorrow I am gonna take the XBox away, give them each a stick and force them to go outside and play in the woods.  Better yet, I'll go with them and show them how to make a mudball and throw it at girls.  Yeah, that will fix everything.  Or maybe I'll just kill some nazi zombies with them.  That sounds more fun anyway.