The following post is a sponsored post, brought to you by ProFlowers. The opinions are my own.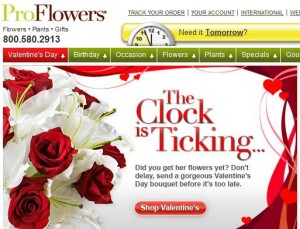 Just in time for Valentine's Day, ProFlowers has given Dad-o-matic five $70 gift codes for our readers. We could have setup some elaborate contest for you to qualify to win one of these gifts but decided to make it rather quick and easy. All you have to do is subscribe to our blog (which we hope you've already done) and leave a comment to this post with your email address. That's it. We will pick the five winners randomly. The contest will run from 2/2 thru 2/9. The code must be used by March 1, 2009.
Important Note: Also, the codes will only work for residents of the United States. However, if the winner lives outside the USA they could still have flowers delivered to anyone they want that does live in the USA.
The preceding was a sponsored post. The opinions contained within are my own, and reflect my beliefs. For more information about ProFlowers, go to ProFlowers. For more on our disclosure policies, read more here.