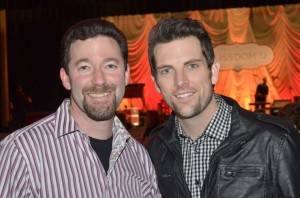 I'm lucky that in my professional travels, I have a chance to work with and meet so many wonderful people. Â In February, while attending the Blissdom Conference in Nashville, I was fortunate enough to have a few minutes to meet and talk with singer Chris Mann.
At the time…Chris was one of dozens of contestants on NBC's The Voice and had just made it onto Christina Aguilera's team.
Tonight…he's one of four contestants vying to fulfill a dream and competing tonight to be the winner.
Dads…Chris has an exceptional understanding of social media and how the community of women online connect with each other but let's show him a thing or two about dads…that we too can motivate an army of advocates. Â Watch the show tonight and vote for Chris.
Here's a message from Chris Mann just for you…with all the details. Â Thanks!