Sunday is Father's Day. It may seem a bit rude for me, a mommy, to ask you guys to self-reflect (god forbid), but I know you can handle it. Dad-o-Matic Dads aren't afraid of a little reality check now-and-then, right?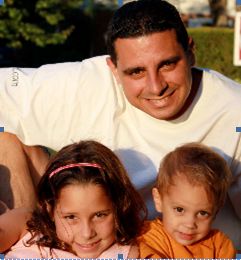 Don't worry, the self-reflection homework doesn't come until the end.  Painless, I promise!  😉
First I have to admit I don't know much about dads. In fact, they've always been a bit of a mystery to me.
My parents divorced when I was 9, but my dad was out of the house before that.  Even when my parents were married, my dad worked at night so I saw him rarely. In fact, after the separation and divorce, I saw my father more often than when he was living with us.  That only lasted for a short time though.  My father came from a different generation, one that was taught that child-rearing was "women's work."  He didn't have much patience for small children.
When I would meet friends' dads, I'd be fascinated.  I would instinctually recognize the same "type" of dad, the distant, strict, no-excuses father like mine (which, honestly, were the norm in the small community I grew up in).  But sometimes I'd meet a dad who was, well, a DAD. A guy who sat and talked with his kids, who coached the pee-wee team, or who helped sell girl scout cookies.  I disregarded the strict dads, as I grew to be quite independent (my father-in-law wasn't at all thrilled with me when we met) and I feared yet longed for the closeness and influence of the "hands-on" dads.
I could wax on forever about my own life, but I'll wax off and always look eye, Daniel-san.  Here comes the self-reflection part.
Even before Freud and his cocaine-frenzied ego-orgies with bored ladies-who-lunch, mothers were blamed for all the mental disorders kids could manifest. For the past few decades, psychologists have started looking at the influence fathers have on their kids (this is actually good news, not just for us scapegoated moms).
It may sound ridiculously obvious, but you dads actually shape your kids' world views, not just by your discipline but by your daily behavior. For example, more and more psych research comes out about how the father's personality determines how a girl will find a mate later in life, and about how fathers act toward women is the defining lesson a boy learns about relationships.
In the book, "The Role of the Father in Child Development" (.pdf of intro here), Editor Michael E. Lamb outlines the 3 areas that many researchers concentrate on when researching the father/child relationship: Engagement, Accessibility, and Responsibility.
Here's the homework:  If you're a dad, perhaps you can use these few days before Father's Day to self-reflect on how you are involved with your children, how approachable you are to them, and if you are fulfilling your duty to them (as your children see it, and as you see it).  Maybe spend some time thinking about how your own father rated on these scales. This can take 5 minutes or 50, it's up to you.
See? That didn't hurt a bit. For extra credit, you can share your thoughts in the comments section.
To my fellow writers on Dad-o-Matic and every other Dad on the planet, Happy Father's Day!