Gay parenting is getting a lot of ink this week.
First, new dad Clay Aiken was on the cover of People Magazine with his new son Parker, next to the headline, "Yes, I'm gay."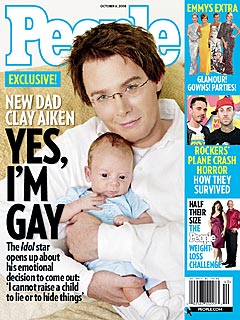 Today, the Evan B. Donaldson Adoption Institute, a non-partisangroup dedicated to improving adoption practices nationwide, released a study that concluded that gay and lesbian adults should be considered as "part of the solution" to find homes for the tens of thousands of children in foster care families waiting for permanent homes.
The report, citing statistics from the U.S. Department of Health and Human Services, estimates about 129,000 children in the United States are currently in need of adoptive homes.
But according to the report and it's something that's becoming increasingly more challenging to do. Florida flat-out bans gay and lesbian adoption. In Mississippi, couples of the same gender can't adopt. In Utah, you have to be a married, heterosexual couple to adopt a child – and according to the report, Arkansas and Tennessee have recently introduced legislation that would follow Utah.
The debate even worked its way into mainstream TV this summer when "Kati," a 41-year-old substitute teacher from Fullerton, California spent a month living with two domestic partners and their family on Morgan Spurlock's FX reality show, 30 Days . In the episode "Same Sex Parenting, Kati lived with Dennis and Thomas, two domestic partners, and their four adopted sons in Michigan, and did everything from attend church with the family, volunteer for a children's advocacy group in favor of legalizing dual-parenting rights for same-sex couples. She met with foster children who told stories of what it's like to grow up without parents, without a permanent home and without a true sense of family. She saw nothing but abundant love and caring from these two men over 30 days and in the end; she wasn't swayed. Not one bit.
So what's your POV – is a push against same-sex parenting a trend that's moving across America, one that might continue to keep more American children out of permanent adoptive homes? Is it, as today's Chicago Tribune suggests, an issue that "continues to rally conservatives"? What are you seeing in your communities?