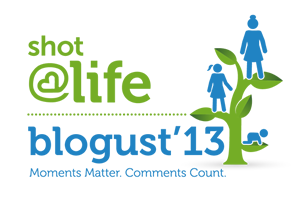 It was merely a coincidence that I got the email from Shot@Life the same day I saw "WORLD WAR Z." Â In the movie (slight spoiler?) Brad Pitt plays an uber slick dude who works for the United Nations, and thus made me think the United Nations was cool again for the first time since I last went Trick or Treating for UNICEFÂ with the awesome "boxes" we got as kids… Â Pitt's U.N. hero ultimately is seeking a vaccine to stop the global spread of a zombie inducing virus…
Shot@Life is an initiative of the United Nations Foundation, and is a movement to protect children worldwide by providing life-saving vaccines where they are most needed. Â The Zombie Apocalypse is not real. Â What is real is that every 20 seconds, a child dies from a vaccine-preventable disease. Every year, 1.5 million children die of diseases that could have been prevented by a vaccine. Â This month, Shot@Life is giving us all an easy way to make a dent in those numbers and give thousands of vaccines to the neediest children around the world.
Blogust – It Was Comment To Be
For the second year in a row, August is Blogust. Â 31 bloggers, one each day of the month, will write about a child that day's age (a one-year old on August 1st, two-year old on the 2nd, etc. etc.) Â I am honored to be representing Dadomatic by contributing a post on August 23 about my 23 year-old middle son. Â The way Blogust works is that for every comment on all the 31 daily posts a vaccine will be donated to a child in a developing country. Â Last year more than 11,000 comments triggered the delivery of 10,000 vaccines. Â This year we have the opportunity to far exceed that number. Â All you need to do is check out the official Blogust posts and leave comments (this post does NOT count, but my post on August 23rd will). Â August is underway, and already the Blogust posts are collecting huge numbers of comments. Â All comments will be tallied up at the end of the month, so every comment on every Blogust post counts between now and then. Â Here are the first posts that have already gone live:
August 1: Rebecca Woolf
August 2: Casey Mullins
August 3: Sili Recio
August 4: Dresden Shumaker
August 5: Amanda Peet
August 6: Polly Pagenhart
August 7: Jessica Ashley
August 8: Rachel Faucett
August 9: Amy Lupold Bair
August 10: Sheila Dowd
August 11: Ellen Seidman
You can follow all the Blogust posts here, and of course I hope that the Dadomatic community will comment heavily on my post on August 23rd.
We may not be able to stop the inevitable Zombie Apocalypse, but we can make a difference in thousands of kid's lives…
This post is inspired by Shot@Life, an initiative of the United Nations Foundation that educates, connects and empowers the championing of vaccines as one of the most cost effective ways to save the lives of children in the world's hardest to reach places. 
During Shot@Life's Blogust, 31 bloggers, one each day in August, are writing about moments that matter. For every comment on  the 31 posts, Walgreens will donate a vaccine (up to 50,000 vaccines).  A child dies every 20 seconds from a vaccine-preventable disease. We can change this reality and help save kids' lives!