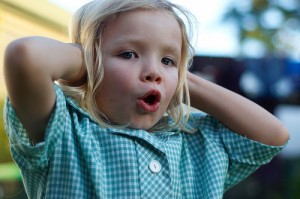 Like many of you, our Christmas break is going to include some road tripping to visit family.  In my case we are driving from Indiana to New Jersey and there is no way I can deal with 14 hours of If You're Happy and You Know It or London Bridge. While my oldest son will spend quite a bit of time watching DVDs, there are times when he just wants to listen to some music and probably wont go for Kings of Leon.
Luckily, I have discovered that there is quite a collection of kid's music that doesn't make you want to pull the car over to the side of the road and run into the woods.  Before you pack the minivan, check out some of these artists to take along for the ride.
Imagination Movers – yes they have a goofy show on the Disney Channel, but before these guys were recruited by Mickey they were releasing their own CDs of great kids music that has strong influences from adult artists.  For example, tell me that Seven Days a Week doesn't sound like Big Country or the Proclaimers, or that What's in the Fridge wasn't influenced by 70's funk.
They Might Be Giants – look, it's They Might Be Giants so that gives them some street cred right off the bat, but their 2 kid's albums Here Come the 123's and No! are really good. Take a listen to High Five or the infectious Clap Your Hands which always gets my 3 year old moving.
Ralph's World – Ralph's World has several CDs available, but my favorite by far is Rhyming Circus. Listen to Folsome Daycare Blues and tell me you don't at least smile.
So there you have it – a short list of kids music that doesn't suck and will hopefully make your Holiday road trip a little more enjoyable.  There's a lot of great kids artists out there – who are your favorites?
(Image credit: gemsling)