Today's the day my wife and I learned that leaving the TV on in the morning while we get dressed for work is leaving quite an impression on our 5-year-old daughter – and we're going to have to change our morning habits.
You see, for several months, our daughter has wanted a dog for the holidays.  Not a real dog mind you.  But what appears to be the most advanced (and possibly most expensive) digital dog on the market: Fur Real Friends' My Lovin Pup Biscuit.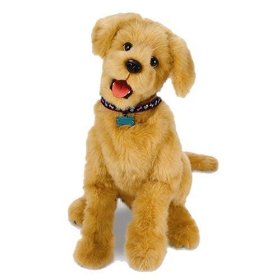 He's cute and cuddly and all and, according to the product features listed on Amazon.com, seems like the perfect pet:
Playtime is going to the dogs and this playful pooch is leading the charge! The lovable mutt features voice recognition, obeying six commands, including, "Sit", "Speak", and "Lie down"
Tell your furry friend to give you his paw and he'll raise his right or left paw ask him if he wants a treat, and he'll nod and whimper to let you know he's ready for his dog "bone"
Biscuit my lovin' pup pet will even "shake" at your command, lifting his paw to your hand or sit up and beg, just like a real pup
Biscuit my lovin' pup pet wags his tail and barks, too, to let you know he's ready to play
Use the special adoption certificate to register your pet online and ensure that you and this adorable pup will be friends forever pup pet comes with collar, tag, brush, dog "bone" and adoption certificate
We've told her it's a possibility that she'll get Biscuit for the holidays, but that s/he's expensive and we'll just have to wait and see what happens.  That answer didn't sit well, as we expected it wouldn't with most 5-year-olds.  She started volunteering more often for chores to see if she can get a raise on her weekly $1 allowance (she can't), counting the money in her piggy bank and thinking of all sorts of other ways to get enough money so this dog can be her new pet.
And she noticed she's coming up short.  That's where the early morning TV comes into play.  You see, while we're tuning out the commercials as we get ready for work each day, our daughter isn't.  She's listening intently.  In fact, it seems she's paying more attention to the commercials than the broadcast.
Today, my wife found her sorting through her jewelry box, putting things that looked like gold into one pile and everything else into another.  When pressed on what she was doing, she simply told my wife that she was doing what the man on the TV said to do – she was getting all of my wife's gold jewelry together so that we could mail it in and get free money that we could use to buy Biscuit.  So clearly, we need to source our morning weather and traffic information from a new source, perhaps the radio.
But more importantly is what to do about Biscuit?  As we debate the merits of buying Biscuit vs. having our daughter continue to work towards contributing financially to it to not buying it at all, I'm wondering, what would YOU do?  Down the road, will our daughter have a bigger life lesson by having played a part in contributing financially to this gift?  Will that take away any of the specialness such holiday gifts often bring?  Or should we completely shelve it as a gift and find ways to make her understand how hard it is to earn more than $100?