Do you remember Steve Austin, the Six Million Dollar Man? Remember the catch phrase: "We can rebuild him…we have the technology." Well, my wife may have met her "Six Million Dollar" labeler/organizing tool, the Brother P-touch Electronic Labeling System. And, she may have actually fallen in love with it. Well, that's what it seems like from the pictures my wife sent me of the new Brother P-touch labeler she's been using while I was traveling this week. I first wrote about the labeler a few weeks ago but this week, while I was traveling for work, she promised to start organizing her office by labeling all of our files and projects.
But this is what I came home to: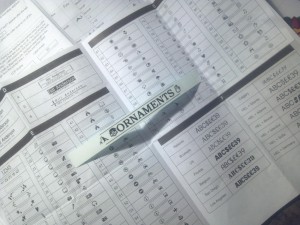 Paper, directions and random labels were all over our home office! Apparently, not all labelers are created equal and this one comes with so many choices that my wife is now sort of obsessed with the variety of choices:
Should the label have a picture?
What is the best font to use?
Bold or Italic?
Framed or not?
The new Brother P-touch is the BIONIC LABELER! My wife is constantly printing out labels using a variety of fonts, symbols and frames so she can "illustrate" what is being labeled. Apparently, a pile of scrapbook paper and some stickers aren't just "paper and stickers" to my "craft obsessed" wife. So she has decided that anything related her many scrapbook projects (You know, the ones she has been working on since we got married 13 years ago?) including the stickers, paper, tickets and other assorted odds and ends should be labeled using a postage stamp frame. (If only I could get her to organize the stuff with as much gusto and passion as she has labeling it!) All of the containers holding her rubber stamps and ink pads are labeled using LARGE, BOLDED, San Diego font and have a graphic of an artists palate. I guess the words "Rubber Stamps" and "Ink Pads" aren't specific enough for my wife?
There's no doubt about it, I make fun of my wife's office. I like to comment that we paid serious money to build a room for her to keep her stuff organized and now it's the least organized room in the house. But I'm confident that all of this time spent labeling her files and art projects will eventually lead to overall domestic order and to my being able to find a postage stamp when I need one. If not, at least we'll have dazzling pictures of the items she has labeled and I can continue to ask her to mail my letters because I still won't be able find a stamp in all of that so-called "order." And let's be honest, it's only week #2 in "our" quest for an organized home. She's already tackled the pantry, linen closet and our daughter's room. She's bound to finish the office before the year ends, right?
It's true, I wrote this review while participating in a campaign by Mom Central Consulting on behalf of Brother P-Touch and received a product sample to facilitate my review as well as a promotional item to thank me for my participation. My wife's monopolization of the tool is entirely coincidental.