My wife has a favorite appliance:Â The Brother P-Touch Labeler.* Â (Not what you were thinking was it?)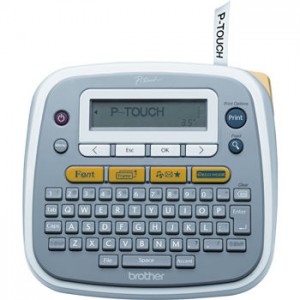 For some odd reason, she really loves to label things in our home.  Every container in our pantry (see: The Pantry Gets A Makeover) is labeled and if she could, she would have a Container Store credit card.  She really has a "thing" for organizing and labeling.
Yet despite her subscription to Real Simple magazine, she is not an organized person.  At all.
As evidence of her good intentions and the seemingly "impossibleness" of her situation, she even had professional organizers come to our home and declare our space a total train-wreck. She even promised one organizer that she would stay away from the Container Store for at least six months because the containers that she is buying are only adding to the clutter.  Didn't work.
When Mom Central and Brother P-Touch announced their campaign, I saw this opportunity as a sign of divine intervention: There is incentive for her to get organized!  So, this month she is dedicating her energies towards organizing her craft room/office: the room she consider to be the heart of our home (and ironically, the one that was professionally organized).
A few things about her that led her to the decision to become more organized:
She is responsible for paying our bills and keeping our records straight. Â  She needs help here.
She is an avid scrapbooker and loves to make her own cards and stationary.  She has a giant cabinet filled with stamps, pads, embossing powder, paper, stickers, die-cuts, camera equipment and items to be scrapbooked vicariously placed wherever there is room with no plan, map or legend.  (Basically, every time she needs something, she has to sort through the mess and hope that she finds what she is looking for.)
She bought a drafting board but it is so chaotic that she doesn't have room to work.
These are all hot spots and I am confident with some purging and significant labeling using her new best buddy, the Brother P-Touch Labeler, she can simplify her already busy life and reduce our clutter.
Disclaimer: I wrote this review while participating in a campaign by Mom Central Consulting on behalf of Brother P-Touch and received a product sample to facilitate my review as well as a promotional item to thank me for my participation.