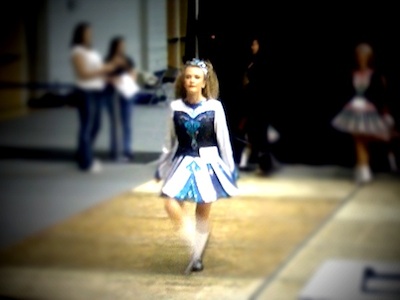 I had just finished sending off a freshly completed picture book manuscript to an author friend for review and was feeling pretty good. The family was still sleeping, and I had the kitchen to myself. I was thinking of what project to begin next, when suddenly, the Elf came into the kitchen. It was a big day for her. She'd be taking off for California soon..
Now that the Elf is 15, she's starting to find things to do outside of the home. She has a job, has an internship as a photographer's assistant, has schoolwork, and takes Irish Step-dancing lessons. She's even taking the bus from school to her dance studio, so I'm not needed to drive her around anymore. Instead of enjoying her company over the holiday weekend, I'll be waving good-bye to her as my mother takes her to California for a dance competition.
Seeing her sleepy form shuffle around the kitchen, I knew I had to strike while I had a chance. I put my work aside and just started chatting with her. We talked about her trip, how excited her Nana was to be taking her to California, and even about a TV show I recently discovered that I thought she'd like. We also had a serious moment and talked about her spelling weaknesses, and I outlined three things we could work on next week to improve them. Overall, though, it was a light, friendly conversation.
She gave me a hug and a smile, then went off for a run. I only had the few moments to be with her before she was gone again, but I'm not disappointed. I was there when she needed me to be. That makes me feel even better than finishing the book.
Douglas Cootey is a married, full time dad raising four girls in the Salt Lake Valley who has long ago overcome his aversion to the color Pink. Douglas blogs about overcoming AD/HD & Depression with humor & pluck over at the award winning A Splintered Mind. He also recently finished writing ADDaboy! for HealthyPlace. The random thoughts of his addled mind can be found at DouglasCootey and SplinteredMind over on Twitter.