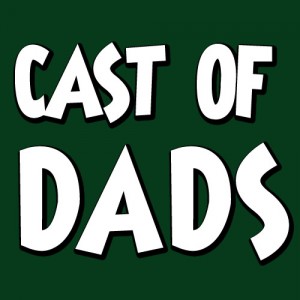 Before I post a new episode of Cast of Dads I always listen to it, and even though I was "there" and part of the recording, I try to listen back to the finished show as a "listener" and experience it as I hope you will. Â I have to say, this show, our 30th episode, had me smiling, laughing and almost crying as we touch on so many fun, interesting and challenging fatherhood topics and experiences. Â I am extremely proud to be a cast member with this group of dads and men, who I now consider among my best of friends, Â and I truly hope you are enjoying listening to Cast of Dads even half as much as we are enjoying creating the show. Â If you are, please let us know. Â We'd love to hear from you!
You can LISTEN TO CAST OF DADS EPISODE 30 HERE.
And here are some of the topics we discuss in this show:
Unplugging on vacation
C.C.'s Napa Valley vacation
Brad's trip to Devil's River
Pictographs
Kids & their blankets
Losing the pacifier
Too many stuffed animals
C.C. attends Kenmore Blogger Summit
Sass take part in Intel Insiders Program
Picking up your kids, no questions asked
The start of NCAA Football!
2010 School Year is Starting
If you have been enjoying the Cast of Dads Podcast, please tell your friends about the show and have them subscribe to either our direct feed or via iTunes. Also, please leave us a review in iTunes!
Cast of Dads is a group of podcasting and blogging dads who gather to gab about fatherhood. The cast of dads includes C.C. Chapman, Jeffrey Sass, Max Kalehoff, Michael Sheehan, and Brad Powell, who collectively represent 13 kids from the youngest of babies to full grown adults. Each of them brings a unique perspective to being a father.
Jeff Sass is the proud dad of ZEO (Zach, 22, Ethan, 20 and Olivia, 18).  He is also a seasoned entertainment and technology exec and active social media enthusiast.  You can see more of Jeff's writing at Sassholes! and Social Networking Rehab and you can listen to Jeff on the Cast of Dads podcast.?