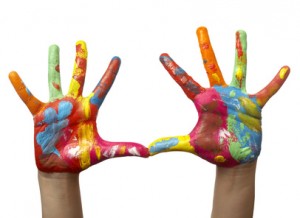 Is creativity a result of genetics or environment? Â I have no idea. If you know the answer, please share it.
What I do know, is that I grew up in a household where creativity was generally celebrated, and I have always considered creativity to be one of my strengths. My mother always drew and painted, and as long as I can remember, our apartment prominently featured her art, both things she had painted as a child, and more recent works she created as a mom. She is still creating art. My sister and I were always encouraged to pursue creative activities, and I found myself drawn to writing, theater and music at a young age. I am still creating today, both personally and professionally.
I'd like to think that my kids were also raised in a creative home. Both their mom and I shared our creative pursuits with our kids, and when their homework offered a more creative option than just using a textbook, we did our best to push them down the creative path. A diorama was always a better choice than a written report as far as we were concerned.
Thinking creatively is a life skill that doesn't just apply to arts and crafts. I firmly believe that being creative, that having a creative mind, is an asset for all types of social and business interactions. Perhaps this is even more true in today's connected world, where our kids are growing up as personal broadcasters. Our kids are sharing clever 140 character updates, slickly filtered photos, and high-definition videos, as non-chalantly and easily as we may have tossed a crumpled handwritten note to a kid across the classroom when the teacher wasn't looking.
In a world where content is king, creativity rules.
I am proud of all of my kids and their continued creative pursuits, whether in the kitchen, with an instrument, or in planning an amazing event. The thrill every parent knows from sticking that first drawing on the refrigerator is every bit as sweet when that drawing becomes a story, a picture, a song, a video on YouTube… Anything created by our children can be a source of awesome parental pride (well, not anything… as the parent of twenty-somethings, there are a few of "those" Facebook posts that, well, I could have done without seeing…). But I digress.
This post on creativity was prompted by me discovering an awesome (in my highly biased parent's point of view) short video that my middle son Ethan stars in and wrote and performed the music for. If I ever wondered what he was doing while away at college in Boston, I couldn't be happier to see this as one of the results. Ethan just graduated from the Berklee College of Music and is moving to Austin, Texas to pursue his career. I know he will do so creatively…
Where do you think creativity comes from?

Jeff Sass is the proud dad of ZEO (Zach, 24, Ethan, 22 and Olivia, 20).  He is also a seasoned entertainment and technology exec and active social media enthusiast.  You can see more of Jeff's writing at Sassholes! and Social Networking Rehab and you can listen to Jeff on the Cast of Dads and Wunderkind! podcasts.
Photo Credit: © picsfive – Fotolia.com