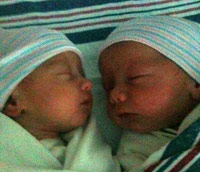 My little brother and his wife delivered their twins yesterday. It was quite a day and I am very proud of him and his wife as I think they will make great parents. Â I could sense the pride in his voice and it still blows my mind that my little brother is now a father. For years he has always been the 'uncle' who was in the door like a whirlwind, long enough to horse around with the kids and then out the door again, off to the next thing.
The whole experience of seeing his babies for the first time brought my mind instantly back to the day that my own children were born, 14 and 11 years ago. I never understood old people talking about how quickly time passes, but I understand it now all too well. I have seen plenty of newborn babies since my kids were born but there was something about seeing these babies that really got me and choked me up.
Perhaps it was because these babies are now my newest family members. Perhaps it was because they really do look like my babies did when they were born. Â Perhaps it was the fact that my little brother is now starting the journey down the road that I have been walking for years. Â Something about that analogy is just moving to me.
But maybe it was the fact that I was instantly swept back to those feelings I had when I saw my children take their first breath. The moment that I laid eyes on them taking that first glimpse at the world brings tears to my eyes even now. My priorities, my beliefs, my goals, and my desires changed in an instant and the world suddenly seemed so much bigger to me and so much smaller at the same time, a dichotomy that is still hard to explain. My little brother just had that experience and it is something that we now share. Â There is so much more that we can talk about now, and that's pretty exciting.
It took me awhile to 'get it', but I discovered why my mom still to this day looks at this 42 year old man like a little kid. Â In some ways she still sees me as that little boy she held in her arms so many years ago, just like I look at my kids today, and just as my brother looks at these beautiful babies in his arms. I can't explain that feeling to anyone who hasn't had a child, and my brother and I probably won't be able to explain it to each other either. But now he knows, and now I get to experience all over again the joy of holding in my arms little children that are a part of me. Â Revisiting memories is so very wonderful indeed.