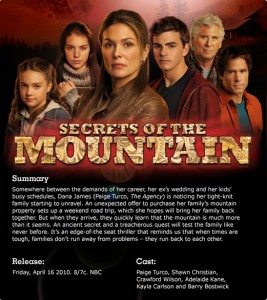 Earlier this week I had the opportunity to get a preview of a movie coming out next Friday. The movie "Secrets of the Mountain" is being funded by Walmart and P&G (Proctor and Gamble) and is their answer to the lack of family friendly programming on television today.
The movie centers around a single mother, Dana James, played by Paige Turco, raising three kids Jake, Jade, and Madeline. The children are played by newcomers Crawford Wilson as Jake, Adelaide Kane as Jade, and Kayla Carlson as Madeline. As a single mother dealing with a difficult divorce she buries herself in work to avoid dealing with her own issues. A consequence of this, is that she becomes disconnected from her kids and they are living in the same house but living separate lives.
An unexpected letter from an attorney arrives offering to purchase some property left to her by a dead uncle. Many years earlier Dana watched her Uncle Henry, played by Barry Bostwick, die when his Jeep was mysteriously forced off a cliff. He was apparently killed for reasons related to a secret hidden inside the mountain.
She decides to take the family on a weekend road trip to the property hoping they can reconnect during the getaway. While checking out the family cabin it turns out Harry is dead at all. He has spent the last several years traveling the world trying to discover the secrets hidden inside the mountain that Dana just sold.  Turns out he wasn't dead at all and he finds it interesting that mysterious corporation now wants to purchase the mountain for a very large sum of money.
This movie is full of interesting twist and turns. There are treasure maps, Indiana Jones like booby traps, and secret passageways and treasure rooms that remind me of National Treasure. It is good fun for the entire family and I urge you to gather everyone around the TV Friday April 16th and watch it on NBC.
Now as a dad writing on a dad focused blog I have a few issues with the movie and the goal that Walmart and Proctor & Gamble claim to have with this movie. From the fact sheet I received from them:
"The film was produced in direct response to recent research conducted by the Association of National Advertisers' Alliance for Family Entertainment that reveals that parents across America are seeking more family-oriented entertainment for the whole family to enjoy together"
There was one very short scene in the movie with the kids father and it depicted a disagreement between him and Dana. I personally think there is lack of programming on TV today that portrays families with strong father figures. Too many shows today display fathers as bumbling idiots (Homer Simpson or Ray Romano) or a testosterone-fueled disaster waiting to happen (Tim Allen).
I understand that single mothers have a unique set of challenges I and don't want to diminish those, but for a large segment of the population a family is a complete family unit that contains a mother AND a father. If Walmart and P&G want to really create family-friendly TV it would be appropriate for that programming to include an entire family.
I hope that the next production can produce produce some content for the whole family and not leave us dads out in the cold.
Secrets of the Mountain DVD & Soundtrack CD Give-away
We will be giving away one copy of the movie on DVD to a lucky reader. The winner will receive the movie the day after it premieres on TV on 4/16/2010. Coincidentally, it goes on sale that same day at Walmart's across the US.
How to Enter: Just leave a comment with your favorite family movie and include your email address so we can contact you if you should win.
DISCLOSURE:
In the interest of full disclosure I will mention that I was flown out to New York and put up in a hotel compliments of Walmart and Proctor & Gamble. This review was not impacted in any manner by this.