"A bro must wait 3 weeks after he breaks up with a girl to engage with said girl."
"If the girl dumps the bro then another bro may not date her unless the dumped bro proclaims it."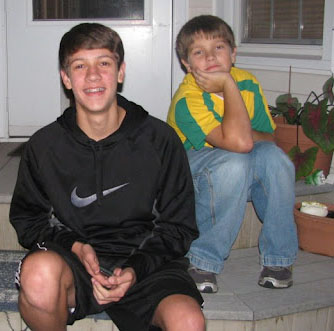 These are but 2 rules of The Bro Code that my son has created with his friends.  I share these 2 rules with you because I don't know any of the other rules.  They are secret.  They are written down on a scroll and hidden somewhere.  I had to brow-beat my 14 year old son to get those 2 of the 54 rules out of him and he wouldn't give up any more, even under the threat of vast punishments.  Secretly, I was actually proud that he didn't give up anymore.  After all, The Bro Code doesn't exist.  Wink wink.
I was reminded of course of the movie "The Fight Club".  You know the one.  Rule #1: You do not talk about Fight Club. My youngest son let the cat out of the bag as he often does and thus it began. But my son held firm, as firm as he could, against his father's onslaught, and I was quite proud that he held his own.
If you think about it, men in general have a code amongst themselves I think.  For example, regardless of your relationship with the other guy, you do not talk to him when you enter a public restroom. You also do not let your eyes fall below shoulder level while there.  These are time-honored traditions that no man breaks.  It is our "Bro Code" so to speak.
As a man, you do not under any circumstances say to your wife that you can't do something around the house.  If you don't know, then you ask your father/brother/best friend/guy at the hardware store. But you never admit defeat to that water heater. A man fixes things.  That's what we do.  So you keep your mouth shut and figure it out.  That's the Bro Code.
I could go on, but you get my point.  Throughout time men have had Bro Codes, and I am proud my son is carrying on the tradition of being a man. I don't know the rest of the Bro Code, but I am sure I would be proud.  So what's your Bro Code?