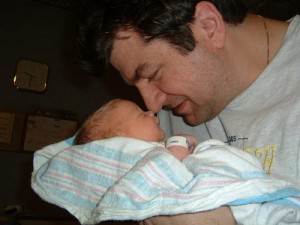 All of us dads at Dad-O-matic (over 80 strong and growing!) want to wish everyone a Happy Father's Day! Obviously, this is an important day for us because we strive to be the ultimate voice for dads and their families.
This day always makes me think of my dad who passed away rather young while I was in my 20s. We weren't on great speaking terms because he abandoned my mom and four sons when I was a toddler and I'd never made peace with that fact. I never got to speak to him as I planned man to man to find closure because he passed away very quickly. Years later I visited his resting place and finally found closure in a profound way but still, it would have been so much better if I could have done so in his living years.
The song "The Living Years" by Mike + the Mechanics is one of my favorites. It still stirs up so many emotions and reminds me of a valuable lesson I learned the hard way as a young man. Life is so precious and so brief, we need to tell those we love how we feel and show them with actions while we still can. We truly never know how long any of us has in this beautiful life. I highly suggest you to find forgiveness in your heart while you can and conversely apologize for anything you've done or else live with regret.
I remember this not just on Father's Day but do my best to do so each and every day. I've been blessed with three beautiful children (Nicholas 10, Matthew 6 and Rachel 3).
I continue to be the dad I never had.

Mike & The Mechanics – The Living Years

"The Living Years"
Every generation
Blames the one before
And all of their frustrations
Come beating on your door
I know that I'm a prisoner
To all my Father held so dear
I know that I'm a hostage
To all his hopes and fears
I just wish I could have told him in the living years
Crumpled bits of paper
Filled with imperfect thought
Stilted conversations
I'm afraid that's all we've got
You say you just don't see it
He says it's perfect sense
You just can't get agreement
In this present tense
We all talk a different language
Talking in defense
Say it loud, say it clear
You can listen as well as you hear
It's too late when we die
To admit we don't see eye to eye
So we open up a quarrel
Between the present and the past
We only sacrifice the future
It's the bitterness that lasts
So don't yield to the fortunes
You sometimes see as fate
It may have a new perspective
On a different date
And if you don't give up, and don't give in
You may just be O.K.
Say it loud, say it clear
You can listen as well as you hear
It's too late when we die
To admit we don't see eye to eye
I wasn't there that morning
When my Father passed away
I didn't get to tell him
All the things I had to say
I think I caught his spirit
Later that same year
I'm sure I heard his echo
In my baby's new born tears
I just wish I could have told him in the living years
Say it loud, say it clear
You can listen as well as you hear
It's too late when we die
To admit we don't see eye to eye