So we sat down at the computer like we always do (my wife and I that is) to figure out which week we needed to block out for the family summer vacation. We did this about a month ago, at the beginning of March. Â We are still trying to figure it out.
I remember back when I was kid, you know, back when my mom dressed me and my brother in large butterfly collars made out of polyester?  But I digress.  Another post for another day.  Anyway, way back then our family always took a summer vacation somewhere.  We had a monster station wagon, ala Chevy Chase's Vacation, that we packed to the gills and drove all over the country.  The gulf coast, the Rocky Mountains, the Pacific Northwest… everywhere.  For a couple years we hauled a pop-up camper and stopped at every KOA campground we could find.  Beanie weenies out of a can, roasted marshmallows, and mom's ham sandwich on white bread.  Then a couple years later we got a small motor home, and we were really high-rollers. Man, that was the life.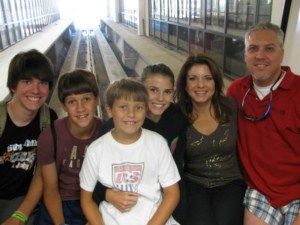 Don't get me wrong, the thought of spending days traveling in a station wagon just to get to where I need to go seems like torture today. Â But God bless my parents for having the constitution to put up with me and my brother cooped up in that wagon. Â Because what it did was build a boatload of memories that we still talk about today. Â And it instilled in me the importance of carving out at least 1 week a year to bond as a family. So every year we go somewhere. Â Don't hand me this 'stay-cation' crap either. Â We need to get out of town and have some fun.
So I do my dad-ly duties and document the entire thing with pics and video so I can make a video clip after it's over. Â Then we have a family video premier of last summer's vacation prior to leaving for this year's summer vacation. Â We then laugh and talk about what great fun (or not so fun) that we had last summer, and get pumped up for this year's summer vacation. (you can watch some of the videos here by the way, if you are interested: my family Youtube channel)
Which brings me back around to the point of this post. Â We can't find a free week to go on vacation this year. Â Sports camps, 4H camps, church camps and mission trips, conferences my wife and I have to attend… the summer is already gone. Â The summers seem to be getting shorter, our kids are getting busier, and the days of the family vacation may be slipping away like so much morning mist. Â Surely other families are having the same problem??
But I remain confident that we will find a way. Â By golly, we may have to put our foot down and tell the kids they have to skip a camp or two, but we will go on a family vacation. Â And this year we are gonna make them eat beanie weenies and crackers for at least one meal. Â I'm so excited, I can't stand it!