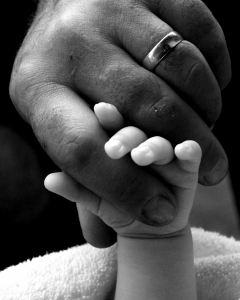 "You Can Let Go" is the debut song from Canadian country artist Crystal Shawanda which knocked me for a loop. I know that I'm a big ole sucker for these types of songs but I really was moved by this one. It tells the tale of a little girl and her dad as she grows up and learns to become independent which is bittersweet for her father because he knows the more she does that, the less his little girl will need him. Being the dad of a beautiful five year-old myself, that hit home big time. I'm not ashamed to admit that my eyes welled up right away.
I know it's an age-old cliche but it's so true that they grow up all too soon. Honestly, one minute you're celebrating a birth, changing diapers and then they're dressing themselves and before you know it they're asking for the car keys. Fortunately, my 12 year-old Nicholas isn't driving age just yet, but that doesn't stop him from asking me for the keys all the time. Still, I know it's right around the corner.
As for the song, it's such a beautiful reminder for us all to savor each and every moment while we can, especially when it comes to our precious little angels. Not only must we prepare them to make it on their own, but we must also prepare ourselves for the joy and pain of letting them go. Sooner or later, every bird must leave the nest. Also, no matter how insanely hectic things get, with non-stop school events, plays, little league games and everything else, we must remember that we will miss these days in a big way. Stop every once in a while and enjoy the blessings by embracing the sweet serenity that rests within all the chaos that is life.
Here is the wonderful music video followed by the lyrics.

Crystal Shawanda – You can let go from Cristina Engel on Vimeo.
Wind blowing on my face
Sidewalk flying beneath my bike
A five year olds first taste
Of what freedom's really like
He was running right beside me
His hand holding on the seat
I took a deep breath and hollered
As I headed for the street
"You can let go now daddy
You can let go
Oh I think I'm ready to do this on my own
It's still a little bit scary
But I want you to know
I'll be okay now daddy
You can let go"
I was standing at the altar
Between the two loves of my life
To one I've been a daughter
To one I soon would be a wife
When the preacher asked
"Who gives this woman?"
Daddy's eyes filled up with tears
He kept holding tightly to my arm
'Til I whispered in his ear:
"You can let go now daddy
You can let go
Oh I think I'm ready to do this on my own
It's still feels a little bit scary
But I want you to know
I'll be okay now daddy
You can let go"
It was killing me
To see the strongest man I ever knew
Wasting away to nothing in that hospital room
"You know he's only hanging on for you"
That's what the night nurse said
My voice and heart were breaking
As I crawled up in his bed and said:
You can let go now daddy
You can let go
Your little girl is ready to do this on my own
Its gonna be a little bit scary
But I want you to know
I'll be okay now daddy
You can let go
You can let go