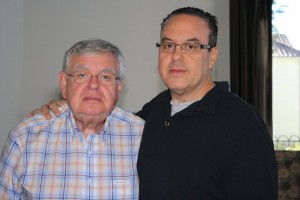 Father's Day is around the corner, but as both a dad and a son, I know (and I know that YOU know) that fatherhood has little to do with one "hallmark" day in June.  While it is nice to set aside some dedicated time to celebrate paternity with pride, it is also important to remember that truly, every day can and should be a father's day.  With that in mind, here are:
5 Things that shouldn't wait for Father's Day…
1) Tell your dad you love him.  Not all of us are fortunate enough to have our dads around and in our lives.  And for those of us who are that fortunate (myself included) it is far too easy to take life for granted and assume that dad will always be there.  Take the time, now, to let him know how glad you are that he is.  Then repeat the practice often.  (Dad, I love you!)
2) Tell your kids you love them.  Now. Today. Tomorrow. Every day thereafter. You can never do it too much.  You can never spoil a child by letting them know they are truly loved.  Don't wait for special occasions.  As a dad (or mom), you know that, when put into proper perspective, every occasion is special. (Zach, Ethan, Olivia… I love you!)
3) Spend time with your kids.  As often as you can, and ahead of other things.  I'm busy.  You're busy.  We're all busy.  But work will always be there.   So will bills.  Chores.  Errands.   Your kids won't.  They grow up.  They move out, and suddenly you can't just walk down the hall and poke your head in their room to check on them.  Suddenly, when you stop and listen, you don't hear them.  No sounds of fighting, playing, laughing, crying, breaking things, video games, bad music blasting, drums and guitars practicing.  One day it is just quiet.  Too quiet.  Way too quiet.  Worse, spending time with them is not so easy anymore.  They live in different places.  Different cities. Different states.  Having dinner with them means making plans, not yelling "dinner's ready."  So spend the time now, while it is easy… and make the time later, when it is harder.
4) Celebrate Fatherhood.  Whether you like it or not, whether you believe it right now or not, being a dad is the single most important, life-changing and lasting thing you will ever do in your life.  It is an enormous responsibility, but an even greater accomplishment as you learn (and continue to learn) to get good at it.  At times, nothing is more challenging than being a dad.  At the same time, nothing could possibly be as rewarding and fulfilling.
5) Acknowledge and Respect Mom. Â In many ways it is silly to have a Mother's Day and a Father's Day. Â We are all PARENTS, and too often the world seems to be trying to pit moms against dads. Â This is ridiculous. Â Parenthood is not a competition, it is an expedition. Â A journey two people embark on together, and share forever, whether they remain with each other as a couple or not. Â I am a divorced dad, but my kids' mother is, and always will be, their mom, and that is very important to me (and them!) Â As dads we need to "man up" as it were, and always, not just on "Mother's Day," respect mom and acknowledge the important part of parenthood they play.
Father's Day is still cool. Â I'll send my dad a gift, and will look forward to cards (and maybe a gift) from my own kids. Â But I am not waiting for Father's Day to be proud of being a dad, and to be proud of my own dad. Â  I will try to do that every day.
How about you?
Jeff Sass is the proud dad of ZEO (Zach, 23, Ethan, 22 and Olivia, 20).  He is also a seasoned entertainment and technology exec and active social media enthusiast.  You can see more of Jeff's writing at Sassholes! and Social Networking Rehab and you can listen to Jeff on the Cast of Dads and Wunderkind! podcasts.