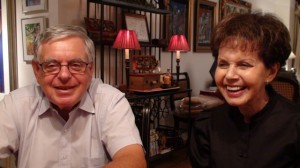 Heritage is a powerful word. In its truest sense it implies all the things we are made of and all the things that make us who we are. Family heritage is deeper than DNA, and thicker than blood. Our heritage is built upon people and personalities, characters and culture, history and hysteria, stories and legends, love and loss. Every one of us is a product of the generations that came before us. We are defined by our heritage. I believe this more than ever, after sitting my parents down in front of a video camera and letting them talk.
Sometimes The Best Questions Are Left Unasked…
As part of the Sony DigiDad Project I was given (on loan) a Sony Handicam HDR-XR500V High Definition digital camcorder and asked to create a "Heritage" video about my family.  I took the camera with me on a business trip to NY and stopped by my parent's apartment to capture them on video.  Rather than "interview" them, I chose to simply turn the camera on and let them talk.  And talk they did…  I tried to distill an hour or so of recorded video into this 7 minute capsule.  I hope it accurately captures the remarkable relationship my parents have, as well as the things that clearly are at the root of of my being: Family, Food, and a good sense of Humor!  (More on the Sony equipment after the video).
If you own  or have access to a video camera and have not taken the time to memorialize the stories of your own family members, I highly recommend that you do so soon.  I am grateful to Sony and Dadomatic for giving the inspiration to do so myself, as I am sure the images and stories I captured for this project will be cherished by my children, and their (yet to exist) children for many years to come.  I hope that the short excerpt below will also be entertaining and inspiring to you.
Gadgets Have A Heritage Too
It is fitting that the camera that prompted the recording of my parents is a Sony. The very first video "camcorder" I ever owned was one of the original Sony 8mm Handycams, purchased in 1986 for my wedding. I really wanted a video camera, so instead of hiring a videographer I spent our wedding video budget on my own camera, and I passed it along to my friends and guests to share the responsibility of recording the event. Yes, in 1986 I crowd-sourced my wedding video!  The much smaller, far more capable High Definition camcorder Sony loaned to me today is still a clear descendant of my old Sony wedding camera, and slipping my hand behind the grip strap and flipping open the LCD screen to a reassuring "beep" brought back many fond memories and I felt right at home playing documentarian at my parent's home.  My "old" camcorder was in design, a smaller cousin to the professional broadcast camera and looked quite different (and arguably, "cooler") than the compact and solid Handycams of today, yet the amazing technology packed into the new design more than compensates for the less than "professional" look.
Image Is Everything
The Sony HDR-XR500V is a beautiful piece of equipment.  It takes gorgeous, almost professional looking High Definition video, and it records it on a massive 120GB internal hard drive (up to 48 hours of video storage in HD mode  – and if I let them, my parents would have filled it all!).  There is also a slot for a Memory Stick, should you want to use removable storage.  I used the available lighting in my parent's apartment, which was less than ideal, yet the images and colors are sharp, rich and stunning, making my Mom's typical "NY Clutter" look quite charming.  Sound quality was also impressive, and while I used the internal mic, there is a jack for an external microphone, which is a must if you get into more serious video production.  Noise from the zoom was undetectable which was great.   Other notable features include a slick, touch screen interface on the flip out LCD, an integrated GPS for geo-tagging and mapping the locations of your videos, and a 12 megapixel still camera (used for the image of my parents above).  You can check out all the specs and features for the camera here.
Rock Steady
If I had to pick one feature that impressed me the most it would have to be the amazing Image Stabilization technology employed by the camera.  While there are a few imperfect camera moves in my "A Family Defined" video as I was getting accustomed to the feel and the zoom, generally I was blown away by how steady it looks.  I did not have a proper tripod available so all the shots are hand-held except one (the shot of my dad when he says his father was a prankster – prankster, not Gangsta!).  For that shot I was using a small Gorilla Pod that I had in my bag, but the HDR-XR500V proved to be too heavy to really use the bendable Gorilla Pod effectively.  For all the other shots, I was resting my elbow on a table, or holding my elbow steady with my left hand.
I'll Fix It In Post
My primary complaint about the camera would be that the video files are saved in a format that is not ready for editing and have to be converted before they can be loaded into video editing software.  In keeping with the theme of the Sony DigiDad Project, I processed and edited the video (and wrote this post) on the Sony VAIO FW465J Notebook PC (also on loan) which limited me to using Windows Movie Maker for editing.
I hope you enjoyed this post and the video of my parents.  While it is meaningful to me and my family, I hope you will still enjoy a short touch of Sass, and more importantly, that you will be inspired to capture your own family in High Definition!  I also encourage you to watch the other contributions to this series from the other participating Sony Dads.  If you missed your chance to celebrate Grandparents' Day, you will especially enjoy "Grandfather's & Grandsons" by my talented friend CC Chapman.
Jeff Sass is the proud dad of ZEO (Zach, 21, Ethan, 19 and Olivia, 17).  He is also a seasoned entertainment and technology exec and active social media enthusiast.  You can see more of Jeff's writing at Sassholes! and Social Networking Rehab.
This post is part of series called the "Sony DigiDads Project" by Sony Electronics where a group of dads, including C.C. Chapman, Jeffrey Sass, Max Kalehoff, Michael Sheehan, and Brad Powell, have been given the opportunity to test and review Sony gear.  If you want to know more about this project visit the Sony Electronics Community.