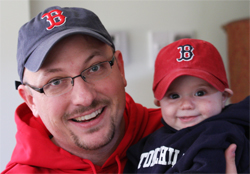 I have only been a dad for 3 months.  My wife and I welcomed Franklin Phillip Lewis to our family on July 4th, 2008 at 7PM.  He is my pride and joy.  Since that day I hate leaving the house to go to work in the morning and I have found myself doing everything in my power to get home early to see him – even if that means missing a Red Sox game or two.  While it has been an absolute joy being a dad the change to our lives has been dramatic.
Expecting dads, here is a list of the five biggest changes I have noticed since I becoming a new dad to help you prepare for what is coming soon:
Change #1: My lifestyle, as I had known it, is over
When the baby comes your lifestyle is the first thing to change.  "B.F." (before Frankie), my wife and I spent a lot of time hanging out with friends, going out to eat, taking impromptu vacations, going to the movies and lived a generally spontaneous lifestyle.  After Frankie, our priorities completely shifted, as did our lifestyle.  While the sudden change in lifestyle was a big surprise, the biggest shock to me is I really don't care. What I learned is that there is absolutely no comparing the kind of love I have for Frankie with the love I have for any other person.
The point is be prepared for your world to change but also be prepared to love someone more than you ever have which completely overshadows the lifestyle change.
Change #2: Dad, you are no longer the only man in mom's life
You will quickly realize that your relationship may get strained because of the time spent with the baby.  Before Frankie, my wife and I spent a lot of time together and that completely changed when Frankie arrived. The focus of everything thing we did quickly revolved around the baby. We barely have time to sit down and have dinner together, never mind doing the things we did as a couple before the baby came.   Spending time together as a couple has become a challenge and I began to feel like "the other guy" in my wife's life.
After doing some research I discovered this feeling this way is very normal for new dads.  My advice is to try to spend some time with your wife every day, even if it's only for a short period of time, talking and sharing time together.  We make a point of doing this every night after the baby goes to bed.
Change #3: The Baby Hangover
Be prepared to be exhausted… constantly. I affectionately call my constant state of exhaustion the "Baby Hangover". No matter how hard we try to get him on a sleeping schedule, it changes. Some nights he sleeps, some nights he doesn't and no matter how hard I try I can't seem to catch up on my sleep.
I still haven't adjusted to the sleeping patterns but I have adjusted to going to work exhausted and catching "naps" when the baby is sleeping.
Change #4: Got pets?  Don't let them get the shaft
From the moment we got home with Frankie, our pets quickly moved to low man on the totem pole.  We have two dogs, Teddy and Larry, which my wife often referred to as her "kids", "soul mates", or "best friends".  Needless to say, that sentiment changed very quickly.  Before Frankie, they got 100% of our attention, now they are lucky to be allowed to be on the couch while the baby is feeding.
I quickly noticed a change in their behavior.  They were becoming depressed very quickly knowing that they were no longer the "babies" in the house.  My advice, make time to play with them, give them attention while including them in baby related activities.  We found that by including them on things like feeding and playtime helped them to accept the baby and give the attention they need.
Change #5: Mom is going through some major changes
For some reason I believed that once the baby came my wife's hormonal mood changes would end.  This doesn't happen, in fact for a time they may become more intense.  There is so much change going on at home that it's tough to remember the amount of change that is going on within her body.
My advice is to be patient and encouraging.  I like to try and schedule nights we can spend together and leave the baby with his Nanny.  While being away from the baby will cause stress for Mom it's good for her to have a breather away from the little guy.
Times, they are a changing…
I completely underestimated two things before coming a dad.  First, I didn't realize how big the changes would be.  Second, I didn't realize how little I would care.  Having a son has been the single greatest gift in my life and it's worth any amount of change.
When things seem to be changing too fast and they start to get overwhelming I try to remember to go with the flow and have fun.   The changes in my life may be frustrating at times and I may not have been fully prepared for them however I have a feeling that in a few short years I will miss this time.
Did I miss anything?  What other changes do I have to look forward to?
Reach me by email at michael.lewis@thebmaboston.com or on twitter @bostonmike