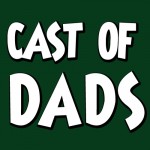 At the opening of this episode you will hear a promo for The Boom Effect, an auction and fund raiser for fellow dad and good friend Tee Morris who recently lost his wife.  Tee will be raising his little girl known as "Sonic Boom" on his own, and the Podcasting community has been very supportive with contributions and events such as this auction. The Cast of Dads encourages you to donate and help in any way you can to assist in making sure this little girl has what she needs as she grows up. Tee, our thoughts are with you!
This week the Cast of Dads faces off with Facebook as we talk about the challenges of raising kids in a digital world.  How old (or young) should kids be when they start using Facebook?  Does everything really end up on your "permanent record?"  These are just some of the things we cover in this episode:
Kids getting on Facebook (Under 13 not allowed)
Should Facebook have more parental controls?
Teaching children online values
The digital trail we all leave online
Todd Defren's "Team Before Tweet"
The Don't Be Stupid Rule (Olympic snowboarder pictures)
Be Upfront
Open conversations on mobile phones
Candid Camera
Blog Design – roll your own vs. hiring a designer
The hotness that is the new Dad Labs
Dadsourcing
Our search for guests (e-mail us if interested)
You can listen to Episode 10 here.
If you have been enjoying the Cast of Dads podcast, please tell your friends about the show and have them subscribe to either our direct feed or via iTunes. Also, please leave us a review in iTunes!
Cast of Dads is a group of podcasting and blogging dads who gather to gab about fatherhood.  The cast of dads includes C.C. Chapman, Jeffrey Sass, Max Kalehoff, Michael Sheehan, and Brad Powell, who collectively represent 13 kids from the youngest of babies to full grown adults. Each of them brings a unique perspective to being a father.
Jeff Sass is the proud dad of ZEO (Zach, 21, Ethan, 19 and Olivia, 18).  He is also a seasoned entertainment and technology exec and active social media enthusiast.  You can see more of Jeff's writing at Sassholes!and Social Networking Rehab.