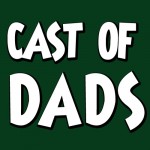 You may not like Mondays, but this week the Cast of Dads decided we did like them, especially since a Monday evening recording session allowed us to whet our whistles with beer, putting us all in an especially buoyant mood for our pre-Father's Day show.
As dads ourselves we have the pleasure of celebrating both sides of Father's Day, relishing in our roles as Fathers, and deeply appreciating the roles our own Father's have played in our lives.  To all the dads in our audience, and to all the dads without whom we wouldn't have an audience, HAPPY FATHER'S DAY!
Holiday or not, this wouldn't be the Cast of Dads if we didn't cover a TON of topics, and this episode is no exception.  Topics discussed include:
Burgermeister memories
Schaefer Beer Commercial with Max's Dad
Custom Photo Collage Ties
Company culture towards parents
Parental involvement = highest achieving schools
Don't only pay attention to your devices
Food as a present
You can LISTEN TO CAST OF DADS EPISODE #23 HERE.
If you have been enjoying the Cast of Dads, please tell your friends about the show and have them subscribe to either our direct feed or via iTunes.  Also, please leave us a review in iTunes!
Cast of Dads is a group of podcasting and blogging dads who gather to gab about fatherhood. The cast of dads includes C.C. Chapman, Jeffrey Sass, Max Kalehoff, Michael Sheehan, and Brad Powell, who collectively represent 13 kids from the youngest of babies to full grown adults. Each of them brings a unique perspective to being a father.
Jeff Sass is the proud dad of ZEO (Zach, 21, Ethan, 20 and Olivia, 18).  He is also a seasoned entertainment and technology exec and active social media enthusiast.  You can see more of Jeff's writing at Sassholes! and Social Networking Rehab and you can listen to Jeff on the Cast of Dads podcast.?