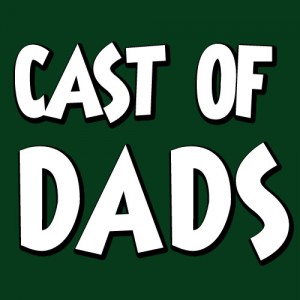 From a toddler's first steps to the steps we need to take to ensure the online safety and security of our kids, the Cast of Dads sound a bit more serious this week as we address our typically diverse topics.  Our serious tone was set perhaps by the breaking news as we recorded of the student suicide at Rutgers, which raised a number of online security and privacy concerns and sadly highlighted the very different world our kids are growing up in, where virtually anything and everything we do has the potential to be broadcast and amplified by the Internet.  Of course one topic is never enough for this group of gabbers and we go on to address everything from education to ranting on the so-called "Year of the Dad" in the Blogosphere…
You can LISTEN TO CAST OF DADS EPISODE 32 BY CLICKING HERE.
The topics discussed in this episode include:
Brad's youngest takes his first steps
Are we expected to capture every special moment?
Technology amplifies hate
How much to share of our kids online?
Pick-up Passwords
Thoughts on education
Need for diversity in schools
Paying for coaches, so why not teachers?
Rugby
If you have been enjoying the Cast of Dads podcast, please tell your friends about the show and have them subscribe to either our direct feed or via iTunes. Also, please leave us a review in iTunes!
Cast of Dads is a group of podcasting and blogging dads who gather to gab about fatherhood. The cast of dads includes C.C. Chapman, Jeffrey Sass, Max Kalehoff, Michael Sheehan, and Brad Powell, who collectively represent 13 kids from the youngest of babies to full grown adults. Each of them brings a unique perspective to being a father.
Jeff Sass is the proud dad of ZEO (Zach, 22, Ethan, 20 and Olivia, 19).  He is also a seasoned entertainment and technology exec and active social media enthusiast.  You can see more of Jeff's writing at Sassholes! and Social Networking Rehab and you can listen to Jeff on the Cast of Dads podcast.?
?