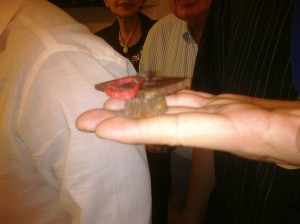 Last week I wrote about my son's graduation from college.  The night of his graduation ceremony his girlfriend and her family threw a party for him at their home.  There were the expected balloons and banners clearly declaring the graduation theme, but there were also two really clever additions that gave the party a special graduation flavor.  I was impressed enough to want to share Amanda's awesome graduation party food fun.
Cheesy, But Clever
What would graduation be without a diploma?  How about a tray of diplomas made out of rolled cheese slices, tied with strips of scallions…  The most palatable parchment evah!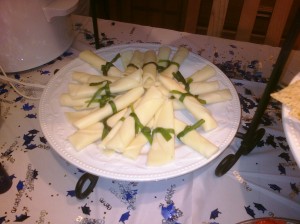 Chocolate With Tassels? No Hassle!
In bit of confectionary cleverness, Amanda created edible graduation caps, complete with tassels, by attaching a square of chocolate on top of an upside down mini Reese's Peanut Butter Cup.  A bit of Airheads Xtremes Sourbelt candy sliced thin for the tassel and "voila!"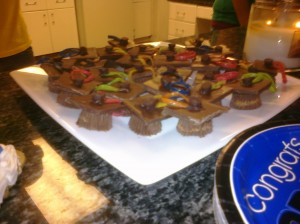 Simple food fun!
How about you? Do you have any special "graduation themed" food tips you can share? Â Please add them to the comments, and if you are celebrating a graduation in your family, CONGRATS!
Jeff Sass is the proud dad of ZEO (Zach, 21, Ethan, 20 and Olivia, 18).  He is also a seasoned entertainment and technology exec and active social media enthusiast.  You can see more of Jeff's writing at Sassholes! and Social Networking Rehab and you can listen to Jeff on the Cast of Dads podcast.