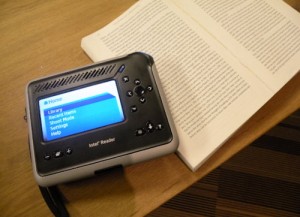 (Note: If you and/or anyone in your family is dyslexic or suffers from any vision impairment, please read on for a chance to test an Intel Reader in your home for one month…Â Â Disclaimer: Product links below are Amazon Affiliate links. Â I am part of the "Intel Insider" program and am compensated and/or receive other value from Intel to attend events on their behalf. I was not asked to write this post, but I came up with the idea of doing so because I thought it would be of interest and value to the Dadomatic community. I hope you agree.)
The concept of digital readers or so-called "e-Readers" has certainly hit the mainstream, with the likes of Amazon and Barnes & Noble seemingly engaged in pricing wars for their respective Kindle
and  Nook
devices as well as many other parties entering the e-ink fray, from Sony
to Samsung and other lesser known consumer electronics players.  Add to that the iPad
and other Tablets and there are no shortage of "electronic reader" devices to choose from.  The Intel Reader, however, is an entirely different type of electronic reader, designed not to be read like a book, but rather to read aloud to you.  Developed by Intel's Digital Health Group, the Intel Reader was conceived as a powerful, portable device to aid children and adults with Dyslexia and other vision impairments.  Unlike traditional eBook Readers and other digital reading devices for the blind, the Intel Reader does not need to connect with a digital library and download or install content to be read.  Instead, Intel has cleverly created a "point and shoot" reading device, with an integrated scanning camera that quickly, easily and accurately captures any printed words – from the pages of a book, to the labels on a package, to your daily pile of snail mail -  and then reads it aloud to you, while displaying the text for you to follow along.
"Frustration Is The Mother Of Invention"
I was first introduced to the Intel Reader at the "Upgrade Your Life" event I attended at Intel's Portland Campus in early June.  The device was introduced to us by Ben Foss, Intel's Director of Access Technology and I have since had the chance to speak further with Ben to get a more complete history of the Intel Reader.  It turns out that there is a very personal story behind the Reader, inspired by Ben's own experience and frustrations growing up with Dyslexia.  Reading was such a challenge for Ben that he made his way through Stanford Law School by scanning his reading assignments and faxing them to his Mom so she could call him and read them to him over the phone.  The frustration of relying on recordings, slow and limited text to speech conversions, and the kindness of others to read to him, Ben was convinced there had to be a better way and began to experiment with taking pictures of text and using optical character recognition (OCR) software to convert the images to text readable by text to speech programs.
Technology For Independent Living
Recognizing that the same powerful processors that drive portable computers would also have the processing chops to facilitate fast text to speech conversion and other features in a small, portable, battery powered device, Ben approached Intel Health to seek funding to develop a prototype of his concept, stressing the wide range of children and adults whose lives could be dramatically improved by such a reading device.  One of the missions of Intel Digital Health is to find ways for technology to be used to enable people with chronic illnesses to enjoy a more independent lifestyle, and clearly the Intel Reader concept fit the bill.  Ben received funding and the work began.
Good Behavior
One of the things I've learned through spending some time with Intel executives is that the company makes product decisions based on a great deal of research on human behavior and ethnograhics.  In creating the current version of the Intel Reader, prototypes were tested with over 400 people, and the observations made had a direct impact on the design, features and functions of the device.  For example, the camera on the Intel Reader is on the bottom, not on the back as one would typically expect on a handheld picture taking device.  The placement of the camera was a result of researchers observing how people were actually using the Intel Reader and recognizing that if a book was open on a table, it was much easier to photograph the pages with the camera on the bottom edge of the device.  Having played with the Reader I can attest to the fact that it is very easy and intuitive to just hold your arms straight out over the book and snap the picture, thanks to the bottom placement of the camera.
Point, Shoot, Listen
I was sent an Intel Reader to play with, and now that I have had the chance to put it through its paces I am going to share the hands on experience with one of you.  The Reader is very easy to use.  As noted there is a camera on the bottom.  Hold your arms out over the pages of the book and snap.  Simple on-screen menus (all of which speak their commands aloud) let you easily manage and play back the documents you have "scanned" by photographing.  You can set the type and speed of the playback voice, and zoom in on the on-screen fonts to enlarge them to seemingly unlimited sizes.  The Intel Reader even lets you make an MP3 file of the reading of any document you have scanned, so you can listen on a PC, phone, iPod, or any other MP3 capable media device.  This is a great feature, that makes the output of the Intel Reader easy to use in places and circumstances where you may not want or be able to bring along the Intel Reader itself.  In fact, you can listen to this blog post, read by the Intel Reader, here.  For scanning larger documents or lots of pages, Intel makes a Portable Capture Station, that holds the Reader above a book, so you can easily snap to scan, turn the page, snap to scan, etc. capturing a large number of pages in one session.  The Portable Capture Station cleverly folds into a self-contained case so you can easily bring it along to work or school or anywhere else you may want to capture content for your Intel Reader.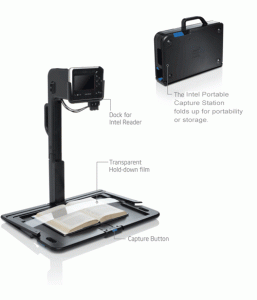 Success Stories
The best way to truly understand the value of a device like the Intel Reader is to see firsthand how it can have a positive impact on a person's daily lifestyle. As Ben Foss says, the impact is greatest when the Reader enables people to once again enjoy doing something they love. Â Ben has no shortage of great stories about Intel Reader users, from the Dad with Macular degeneration who uses the Reader to be able to see the check when he takes his kids out to dinner, enabling him to once again proudly "pick up the tab" as he used to do… to the kid who was finally able to read the instructions for the game "RISK" only to learn that his buddies had been "cheating" all along in their regular games. Â Here is a video of how one woman used the Intel Reader to return to cooking her favorite recipe. Â The Intel Reader is not technically a medical device, and thus may not be covered under medical insurance, however, depending on the user's situation, it may be tax deductible or something that can be purchased on one's behalf by their school or employer. Â If interested in more detail in that regard, please consult with a qualified professional. Â To give you an idea of cost, the list price for the Intel Reader is approximately $1,500 and the cost of the optional Portable Capture Station is approximately $399.
Your Turn
Intel has let Dadomatic borrow an Intel Reader to let one of you use it for one month and see firsthand how a digital Reader that speaks to you can make life a little easier.  If you are interested in having the chance to test drive the Intel Reader, please leave a comment below and let me know why you would like to try out the Intel Reader.  One commenter will be selected to be sent an Intel Reader on loan for one month.  To participate I ask  that you agree to share your experience with me so I can include your views in a follow up post here.  Sound like a plan?
Below is a good video demonstration of the Intel Reader. Â I look forward to your thoughts on this innovative electronic reader.
Jeff Sass is the proud dad of ZEO (Zach, 22, Ethan, 20 and Olivia, 18).  He is also a seasoned entertainment and technology exec and active social media enthusiast.  You can see more of Jeff's writing at Sassholes! and Social Networking Rehab and you can listen to Jeff on the Cast of Dads podcast.?