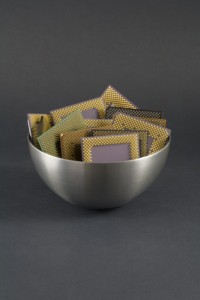 As so called "daddy bloggers" for Dadomatic we sometimes get invited to attend events that may lead to information and content that will be of interest to you, our readers. A few months ago, for example, Christopher Johnston was flown to New York to attend an advance screening of the family movie "Secrets of the Mountain." Today I am being flown to Portland Oregon to attend an all day event tomorrow at the Intel Hillsboro Campus called, "Upgrade Your Life." I will be joining a number of other invited bloggers and digital "influencers" including:
As you can see, there are only two "guys" in this gang and I am glad to be joining one of my "Cast of Dads" cohorts, Michael Sheehan (aka "HighTechDad") to help represent the Dadosphere.  Until recently, many events like this seemed to be geared toward women exclusively and it is thanks to YOU, readers of Dadomatic, as well as the growing popularity of other dad and fatherhood blogs such as Digital Dads, DadLabs, and many others, that Dads are being included more and more when family and parenting is being considered.  Kudos to the Intel team for opening up this event to geek parents of all genders!  Speaking of geeks, the agenda for the event includes a wide range of presentations and round-table discussions and I look forward to learning more and sharing what I learn with you.  I wonder if they will be serving "chips" at lunch???
Intel Inside… Everything
Following the "Upgrade Your Life" theme, based on the agenda it looks like we will be looking at how technology impacts:
The Workplace
Healthcare
Entertainment
Education
The Environment
The Future
These are all topics we have tackled in one form or another here at Dadomatic, and it should be interesting to see how one of the world's leading tech companies is approaching them. Â We should have access to a number of Intel Executives during the day, so if there are any specific questions you might have for Intel please leave them in the comments and I will do my best to get you some answers while I am "Inside Intel."
DISCLOSURE: In accordance to the FTC Guidelines and WOMMA Code of Ethics, I am disclosing that Intel Corporation has covered my travel, accommodations and costs related to my visit to their Oregon-based offices.
Jeff Sass is the proud dad of ZEO (Zach, 21, Ethan, 20 and Olivia, 18).  He is also a seasoned entertainment and technology exec and active social media enthusiast.  You can see more of Jeff's writing at Sassholes! and Social Networking Rehab and you can listen to Jeff on the Cast of Dads podcast.
Photo Credit: © Starks – Fotolia.com