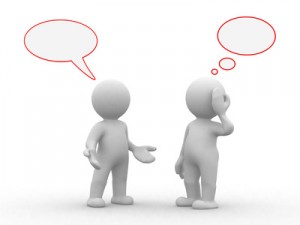 Sex… is not what this post is about.  No birds and bees here.  Instead I want to talk about the "other" conversation to have with your kids as they approach the age of puberty and start to become young adults.  That is the talk about privacy and managing with common sense the digital trails we deliberately and innocently leave behind in "cyberspace."  For many parents this may be an even more challenging topic than the dreaded "sex talk."  As parents, by definition we have generally had sex ourselves, and we were once teens, experiencing the hormonal surges and urges of the beginnings of our sexual lives.  Therefore, though it may give us the willies, we are more or less prepared and have relevant firsthand experience to shed wisdom and guidance on matters of sex.  On the other hand, as parents most of us did not grow up in the same digital world our kids now inhabit.  We did not grow up tempted with "sexting" from our mobile phones.  We did not grow up sharing our lives and loves online, with pictures, videos, and often revealing "status updates" on Facebook, MySpace, Twitter and YouTube.
You Are Your Resume
My oldest son will graduate college this year and enter the "full time" work force.  A few years ago, when he was looking for a part time job, I remember helping him with his resume, crafting the words in a traditional paper format.  You know the drill: Objective, Work Experience, Education, References, etc.  Now as he gets closer to really needing a resume it dawned on me that he needs to concern himself with much more than a classic Curriculum Vitae.  He needs to concern himself with his online resume, in particular, his Facebook resume.  So, we had "the talk."  In this talk, the protection we discussed had nothing to do with prophylactics (although we DID once have THAT talk).  In this talk I told him to assume that for any job he might apply for, the employer would see everything on his Facebook page.  He should assume that his potential future employers would "Google" him, and take a close look at his digital life.  In some cases that may be more important to them than his old fashioned resume.  I told him that, like it or not, he had to use common sense and think about and filter anything and everything he posts online with the understanding that it may very well shape the impressions of the people who will help him launch his career.
Online Is The Real Vegas
The clever catchphrase of Las Vegas notwithstanding, what happens online does indeed stay online, and that is an important lesson for us to teach our kids.  They have to be made aware that "cyberspace" has a better memory than any elephant. Digital ink is more indelible than any Sharpie pen.  The silliness they may choose to share with their friends is more than likely going to be visible by family and employer alike.  Even if some networks and things are truly private, I think the best way for our kids to approach their online lifestream is to use protection and proceed with the assumption that anything and everything they choose to share is discoverable.
What do you think?  Have you had this talk with your kids?
Jeff Sass is the proud dad of ZEO (Zach, 21, Ethan, 19 and Olivia, 18).  He is also a seasoned entertainment and technology exec and active social media enthusiast.  You can see more of Jeff's writing at Sassholes! and Social Networking Rehab.
Photo Credit: © ioannis kounadeas – Fotolia.com