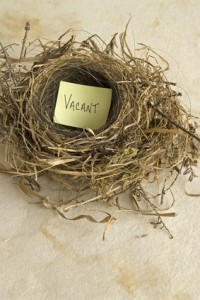 Be careful what you wish for… you might get it.  I always wished my rockstar son would keep his room clean.  Invariably, whenever I walked by and heard his guitar playing and opened the door I regretted the mess I saw.   Now his room is clean.  It is more than clean, it is practically empty.  It is empty because on Friday he and I shared a moving experience: he moved out!
The Nest Took One Giant Leap Toward Empty
I have been a single dad for the past seven years, and as my three kids have grown I have grown to depend on them being around.  As my sons crossed the age eighteen threshold and began to drive their own cars it was great to feel like I was no longer the lone adult in the house.  Having two responsible young men around to help was a welcome new phase of fatherhood, and frankly, knowing they could pitch in and drop off or pick up their younger sister in a pinch made my life a lot less complicated.
It's Not The Motion, It's The Emotion
Who am I kidding?  Worries about driving logistics is not the reason my throat swells and chokes up when I look at my son's empty (clean) room.  The truth is I already miss him!  I miss the constant soundtrack of his guitar practicing drifting through the house, our own private musical score.  I miss walking into the kitchen and seeing him eating cereal standing at the counter, and telling him to sit down at the table and eat like a human being (only to stand and eat at the counter myself as soon as he walks out of the room).  I miss his presence in our home.  I can feel something missing, and I don't like the feeling.
The Dorm Is The Norm
I am extremely proud of my son (and all three of my kids) and I can certainly appreciate his desire to stop commuting and live on campus as he becomes more immersed in his college experience.  After all, when I look back at my own University days, my education came as much from "living away from home" as it did from the textbooks, classrooms and lecture halls.  It is a priceless experience I have always wanted my kids to be fortunate enough to enjoy.  I just never imagined how hard it would actually be to let them go.
Who Ya Gonna Call?
I am not afraid of ghosts, but I am scared of how my role as Dad is rapidly changing.  I am frightened by the sadness creeping into my heart as I realize that this is the first step toward the inevitable "empty nest" and a dramatic change in the way my kids will "need" me in their lives.  Intellectually I know this is all good and healthy and normal, and as good for me as it is for my kids, but emotionally I find it far more overwhelming than I had anticipated. Going from being their caretaker, to hearing your kids say "take care!" as they walk out the door to their own lives is a big deal!
A Moving Experience…
What do you think?  I turned to Twitter to help me decide on the title of this post, and now I am turning to YOU to help me finish it off.  Since this is all new to me, I'd welcome some tips and advice from those of you who have already been down this road.  Please share your own moving experiences in the comments.
Jeff Sass is the proud dad of ZEO (Zach, 20, Ethan, 18 and Olivia, 17).  He is also a seasoned entertainment and technology exec and active social media enthusiast.  You can see more of Jeff's writing at Sassholes! and Social Networking Rehab.
Photo Credit © Bruce Shippee – Fotolia.com