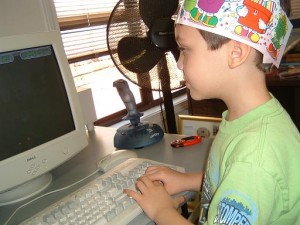 "When should I start teaching my son (or daughter) about computers?" This is a common question I get from new parents. There's no hard and fast answer or correct age. I always tell them to just provide access to an older computer as early as possible, even if they just pound the keys like a whack-a-mole game. In time they begin to press the keys (whatever keys that are left) and learn to maneuver the mouse enough to control the cursor on the screen.
There are many excellent games for tiny tots which make it fun for even the youngest of users. There are fun coloring book type games and music based activities that will keep even the most hyperactive toddler busy for the longest of times. Every child is different so you'll need to try many types of educational games before you learn what really grabs their attention and interests them.
Terrible Twos
For my kids, they seemed to be ready and willing to learn about 'puters (as they called it) when they hit the terrible twos for whatever reason. I was fortunate enough to be in the computer industry so I had no problems being able to get older systems dirt cheap for them. The other thing you can do is time your home computer replacements to coincide with their introduction to computers. Whenever I upgraded our family PC I would give the replaced system to oldest child and give their system to their younger sibling and so on and so forth. It's a process that I believe we will continue to do until they leave the nest. It just works.
It's a Small World Even Online
When your children are a little older they will want to join some of the cool online gaming services out there. The most popular ones come from Disney, no surprise there. They own ClubPenguin.com, PiratesOnline.com and ToonTown.com. They can target just about every age group with those three offerings and each requires a monthly subscription fee. They're all closely monitored and just about every age child seems to enjoy it.
Summation
Let's face it, things sure have changed since we were young 'ens. Computers have become a natural part of every day existence at work and at play. The sooner our children become familiar with technology and start learning how to use it–the better.