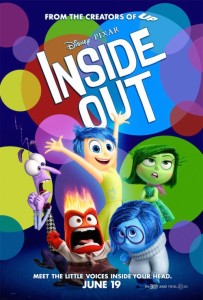 I was a little doubtful that Pixar could pull off another incredible animated masterpiece going into the theater to see their latest release, "INSIDE OUT" but all of my doubts were erased within the first few minutes. I was smitten with this story immediately. It was all about the emotions of an 11 year-old girl named Riley.
The emotions included were Joy, Sadness, Fear, Disgust and Anger. I was happy that I had all of my kids with me to see this movie which is so rare because the oldest is a 16 year-old teenager. Everyone enjoyed the movie which was another treat. Of course my teen son could only muster "It was all right" which actually means he loved it.
Without giving away too much, I just wanted to share a few things that I loved the most about the film. First, the animation was stunning as usual though I'm not sure it has to be experienced in 3D but we did it anyway.
The other thing that made this special was the intelligence in the screenplay. Pixar doesn't talk down to kids and so that's why it's always good for all ages. The focus on how emotions impact us and how they're connected to memories that forge our core beings is rather deep for a supposed kid movie. I loved how they don't paint with broad brushes and try to make some emotions the hero (such as Joy) and others the villain (like Anger or Sadness). They actually do a great job showing how important they all are to each other and to us.
I enjoyed all of the clever puns too. For example, HEADquarters is where all the emotions are controlled, the Train of Thought delivered ideas to headquarters, Imagination Land, Dream Productions, etc.
Here's an excellent scene involving the dad who has to disrupt a happy family moment to take a business call. All us dads fully understand this experience. We are completely immersed in a good time with the family but then work interferes at the worst time. I liked how the mom and daughter understood and decided to make the most of it by going out to have some fun.

One of the characters that stole the show was BING BONG, Riley's imaginary friend who's a pink elephant that cries candy. He was such a funny and ultimately important figure in this story. There's a scene near the end that I have to admit moved us all to tears.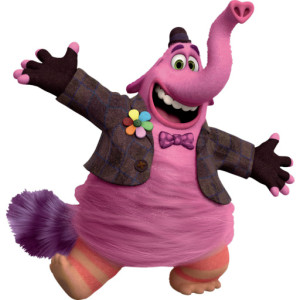 My favorite moments were all the scenes involving the importance of memories, especially core memories. I found them so emotional (no pun intended). I looked at my kids sitting all around me and realized I was right in the middle of a memory I'll treasure forever long after they leave the nest.

Speaking of memories, the scenes where they visit the place that keeps all of Riley's memories in endless orbs reminded me of how we as parents try to do the same thing with all of the photos and videos we take of our kids. It's our attempt to capture, literally, sweet moments to enjoy again in the future. Each one of the orbs was like a photo or video that we revisit in order to relive the special experience. Sadly, we rarely take the time to do this because we're too busy living in the moment and dealing with life.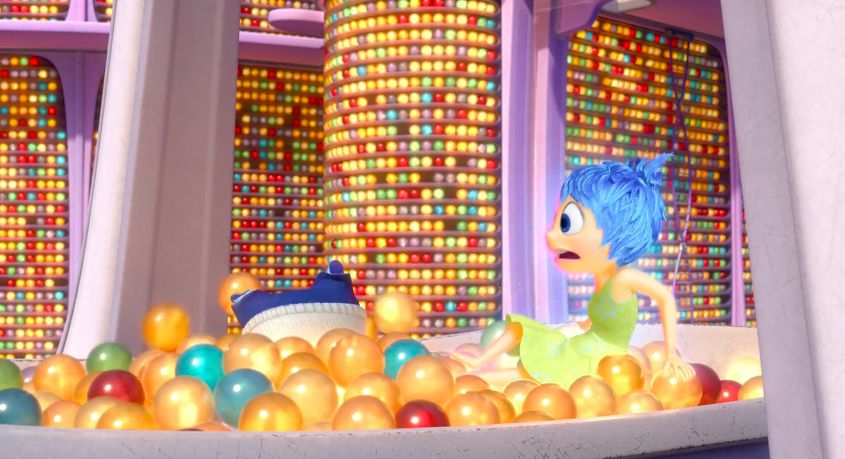 So I highly recommend seeing Inside Out with your family. It's one of Pixar's best which is saying something. Pete Doctor was inspired by his own daughter who was 11 at the time and going through a lot of changes. By the way, his daughter's name is Elie which he used in "UP".
Here's the trailer in case you need more encouragement to see it

By the way, I kept hoping to see something that would continue the Pixar Universe theory that claims all of Pixar movies are connected in some way. Here's the theory in case you're not familiar with it.

Anyway, I didn't see anything in Inside Out until I realized that Riley's hockey team is the "Tri-County Youth Hockey league" which is the name of the town in Toy Story, also set in San Francisco area! Ha ha! I predict Riley will meet Andy at college and fall in love in Inside Out 2 or Toy Story 4 giving birth perhaps to a new series called "A BABY'S WORLD"
I had a thought that perhaps Riley would grow up to become Andy's mom (from Toy Story) but my kids laughed at me and reminded me that Emily is more likely to be the mom's name… Emily was the name of Jessie's owner. Andy wears a cowboy hat similar to the one on Emily's bed.