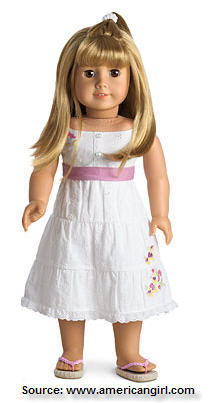 One of the differentiators between the American Girl dolls and others has always been their stories.  The dolls, from Kaya the Native American to Rebecca Rubin, the Jewish immigrant, gives a depth of character to these dolls that separate these toys from the others in any toy aisle.
Now, Mattel is tackling the issue of homelessness by selling a $95 doll named Gwen Thompson who finds that her father has walked out on her and her mom, forcing them to live in a car and a homeless shelter after losing their house.
As with all of the American Girl stories, Gwen's life story works out in the end.  She and her mom eventually move into an apartment and back to a more "normal" life.  But the story begs several questions:
Is it appropriate to try and sell a $95 doll that few, if any, homeless girls could could afford?
Should American Girl take the profits from the sales of these dolls and donate them to America's homeless shelters or to charities that work to raise money for battered women?
Should they pull the doll and her story from the American Girl catalog all together?
Or does it help teach children valuable life lessons, teaching them compassion about those who might be less fortunate?
Tell us what you think.